Sample Home Office Floor Plans for Small Spaces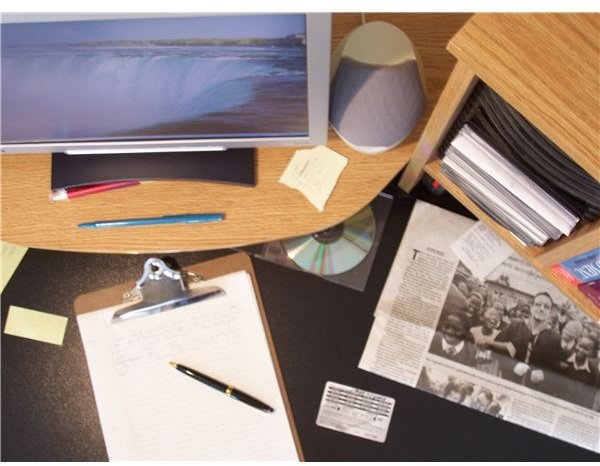 The Triangle
Coming up with the right layout for your home office can take some time. But all in all there are only so many different ways to put your furniture and office equipment that fit in your office and feel aesthetically pleasing to you. After all, it really doesn't matter how it is laid out as long as you are good with it.
Keep in mind the basic triangle design. Just like a kitchen, your office will be more functional if you can keep everything in a triangular pattern. This allows for easy reach, good flow and efficiency. For example, your desk would be one corner of the triangle, filing cabinet could be placed in another corner and your printer in another corner. Everything flows.
For some actual sample diagrams, check out the collection of various home office floor plans in our Home Office Media Gallery.
Image Credit: sxc.hu/dekok
Put it on Paper First
Many home offices are too small to fit much into. They could even be at the kitchen table in some cases. The trick here is to minimize the impact on your home until you can move into larger quarters. Efficiency is the name of the game. Assess your home. Find a key storage spot and work your home office around that. If it is a hall closet, make sure that your desk is nearby and the items you use most are accessible.
The best strategy is to plan ahead. Sketch out the area you intend to use for your workspace. Use graph paper and, after measuring out the dimensions of the office space, scale it down to fit on your graph paper. Be sure to add breaks in walls for window space and doors or closets. Make the drawing representative of your actual office space. Make scalable templates of your office furniture and equipment. That way you can move them around your paper office and visualize the efficiency or, quite possibly, non-efficiency of the room.
Don't Forget the Extra Touches
Once you have the floor plan you intend to go with add decorative touches. Use cork board to so you can post a drawing or photos on it. The cork board can double as a place to post important reminders, or even icons that remind you to stay on task. A white board is another efficient use of space in a small area. Turn your sliding closet doors into white board. Just visit your local hardware store and purchase the board, then screw it into your current closet doors.
On a Budget
If your budget is small, start off your office by visiting garage sales. Pick up a decent used desk and keep your eyes open for bookshelves, file cabinets, and printers. Get only the items you need to complete your office tasks. Take the time to resurface the furniture to give your office the charm you envision for your office.
Finally, add plants to your office space. It brings in a soothing element and softens the harsh lines of office furniture. Remember that conditions in your office can impact your productivity tremendously. You need to create an inviting environment that will bring you into the office and keep you there. Balance and efficiency are key to a productive and relaxing work environment.