Learning How To Personal Daily Productivity Report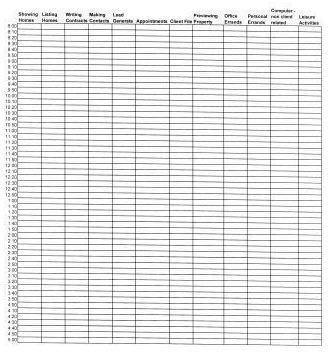 Motivation
The use of daily productivity reports in your business is essential. In any business, time wasting is a huge downfall and can break a career. It is easy to get side tracked into laundry piles and dirty bathrooms, or long lunches and trips around the mall when you are self employed. Finding the motivation to stop yourself from being distracted can be as easy as writing down what you do during your business day.
Most of us come from a "J" "O" "B", where you were expected to fill out a timesheet. When you become self employed that is one of the first shackles you release. Unfortunately, it might take quite a while for you to realize that a timesheet can be a useful tool towards great success in your daily productivity.
It Begins with Tracking Time
Track your time from most essential activities to non-essential activities. Make a list and prioritize from income producing to income wasting. Keep the list between seven and twenty items. Run the titles across the top of a sheet and time increments on the left of the sheet. If you tend to do your tasks in ten minute blocks use ten minutes. Do not go longer than thirty minute blocks. The examples used are for a Realtor, adjust the categories to fit your needs.
Summarize Your Time
A daily productivity report is essentially a summary of your timecard. It enables you to organize your work into catoegories that make your productivity measurable. For instance if you are working on three jobs, but want to track each one separately, breaking down your work into categories and then assigning a job number to the time spent within that category enables you to summarize the time spent on that one job.
The trick is to decide how you want to measure your productivity. If you are motivated by seeing how much time you waste, you need to track that accurately. Measuring time lost by using a Daily Productivity Report can help you reassess your approach to using your time effectively.
Daily Productivity Report Sample

Looking at totals of where your time went can be like a bucket of cold water over your head. Most of us will have an "aha" moment and rethink what we are doing with our day.
Other Options
Try this exercise for thirty days, than do it once a week to keep yourself in check. You don't want to regress to having a "J""O""B", but you do need to hold yourself accountable to your vision. If you find this effective and want to implement it into your daily routine, consider using a more advanced technique. Outlook allows you to track your time, and there are many other free time tracking products available in the internet that will do a much more detailed analysis of how productive you are.
You can find products that will lock you out of time wasting internet sites such as Leechblock from Mozilla. This allows you to specify up to six sites to block and you can specify time ranges to block them. It will even keep track of how much time you are spending on the site.
Tracking your productivity can be a very beneficial exercise and one every self-employed individual should do. We are accountable to the vision we have of our success and this is one simple tool that holds us to that vision.