How to Set Up an Etsy Shop: Part 1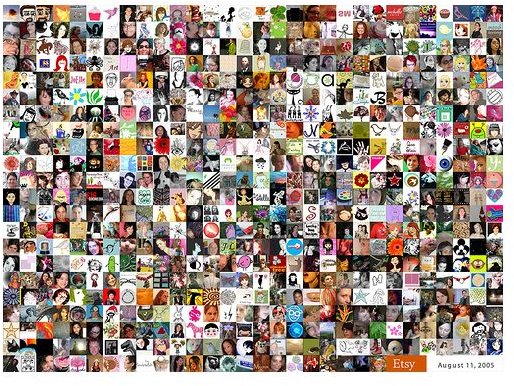 Etsy Overview
Etsy.com is a social commerce website and one of the most popular online platforms for buying and selling arts and crafts. The site adopts an online model of traditional open craft fairs, with sellers allotted personal storefronts to list their wares.
The major product categories in Etsy include
All types of finished handicrafts including art, photography, clothing, jewelry, edibles, bath and beauty products, quilts, knick-knacks, and toys.
Commercial and handmade crafting supplies, including raw materials for art and craft making such as beads, wires, buttons, fabrics, patterns, and embellishments.
Handicraft making tools such as handcrafted jewelry making tools.
Any vintage item more than 20 years old.
Handcrafted custom orders based on specific request through a bid system.
Etsy is the forum to sell one's own handicrafts and does not allow trading or selling handicrafts made by others. It is however possible for many artisans to get together and sell items from a single shop (read sub-domain). The major advantage of such a cooperative shop is faster replenishment of items and a more reliable supply chain.
Image Credit: Etsy Visualization: All Etsy Members with Avatars August 2005: jared/flickr.com
Registration at Etsy
Now, here are some tips on how to set up your Etsy business. The first step toward setting up an Etsy business is registration with Etsy. Registration requires:
A unique username and a password. The username cannot be changed later and the only option to change the username is to start a new account.
An email address for validation and communication purposes.
While registration is free, Etsy charges listing fees for items listed for sale and a commission on each sale. The listing fee at present is 20 cents per item for four months, payable at the end of the month listed and the sales commission is 3.5 percent.
Setting up an Etsy Shop
Etsy users automatically get a sub-domain based on their username at Etsy. The sub-domain URL reads: https://username.etsy.com. This URL becomes the address for the sellers shop location.
The next step after registering with Etsy is setting up an Etsy shop by clicking on "Sell" from the home page header and then clicking on the "Get Started" icon.
Registration as an Etsy seller includes completing the following information:
Personal details such as name, address, and country.
Credit card details for identity proof. Etsy verifies the credit card by running a $1.01 authentication.
Optional PayPal information for sending and receiving payments.
Customization of Etsy Shop
The step after registration of an Etsy shop is customization of a shop banner, profile, shopping policies, and other setup requirements. Setting up the Etsy shop entails defining the shopping sections and customizing their appearance.
Shop Sections - An Etsy shop allows up to ten different sections, all which appear as links on the top right-hand side of the homepage. The 'Special Section' contains items from all these sections.
Shop Appearance - The Shop Appearance Section is the equivalent of a brick and mortar shop window. The seller selects from Etsy's great paint-by-the-numbers templates and has the option to customize the appearance through their own designs. Personal avatars, banners, and a tag line add to the customization. Etsy reinforces the shop appearance by many innovations such as Adobe Flash-based visualizations and a taxonomy of categories with tags.
On Page 2, we'll delve further into how to set up your Etsy business by addressing issues such as defining shop policies, stocking items, and using Google Web Analytics.
Defining Etsy Shop Policies
Defining Etsy shop policies entails setting up of detailed and comprehensive instructions and terms of sales. The major components of a good shop policy include:
For payment policies, Etsy provides options for personal checks, money orders and PayPal. It's also possible to process credit cards directly or outside Etsy's payment system
Shipping information such as fees charged for shipping, shipping information for overseas orders, shipping rebates for bulk orders.
Refund policy including refund on damaged items, delayed items, etc.
Related to the Etsy shop policy is the shop announcement. This section requires a write up that tells viewers about the history or purpose of the shop, alchemy or custom-order issues, and standard messages sent to customers at time of purchase.
The vacation mode announcement option leaves a message of inactivity for the specified period at the homepage. Etsy does not display items for sale in the shop during this vacation mode period.
Stocking Items in Etsy Store
The step after registering and customizing your Etsy store is stocking items in the store, or listing items for sale. Stocking items means listing products for sale. The key factors in listing products are:
Naming the item.
Providing accurate descriptions, including the materials used in manufacture,
Uploading high quality images of the product. Etsy recommends 1000 pixels wide with file formats of either .jpg, .gif, and .png images with a maximum file size of 2MB, and a maximum of five images per product.
Selecting the correct item category.
Entering all selling info, including price, quantity and shipping information.
Image Credit: Etsy Visualization Front Page Featured Items that Sold in 24 Hours: jared/flickr.com
Etsy Shop Web Analytics
Etsty Shop Web Analytics, Powered by Google help achieve high rankings with search engines by choosing the right keywords and phrases.
The Visitors Section of Google Analytics offers a detailed visitors profile. The Traffic Sources Section shows how visitors reach your Etsy shop, and the Content Area shows statistics for individual pages. The site overlay functionality helps to ascertain the details of the specific items clicked.
Etsy has grown significantly since its launch in 2005 and generated $1.7 million in sales by May 2007. The increased move toward eco-friendly products and the presence of a vibrant community of helpful, knowledgeable sellers at Etsy portends further growth for this portal, which has been described as "A crafty cross between Amazon and eBay," and as "Your grandma's basement," by the New York Times.
If this sounds like something you'd be interested in, you can follow these easy steps on how to set up your Etsy business.