Unconventional Techniques to Solving Time Management Problems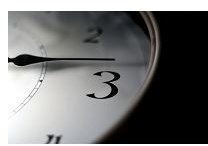 Implementing simple techniques to solving time management problems will make you a more productive person. You'll also free up your time, which is handy when you need to accomplish many duties and responsibilities in any given day. Busy parents have little choice but to improve time management or they'll quickly find their household out of control.
Technique #1: Change Your Work Arrangement
Changing your work arrangement is the most drastic of all time management solutions, but it's the most effective. Your work takes up the bulk of your time, and it can interfere with family relationships and management. Other relationships and responsibilities also suffer, while competing for your time. Add to that a commute and "face time" at company events or after hours, and it's easy to see why there don't seem to be enough hours in a day. When was the last time you seriously considered these alternative ways to make a living:
Telecommute
Work as a freelancer, consultant or independent contractor
You may be busier than ever before when venturing out on your own, or working from home. However, you'll have more flexibility in your schedule to manage your other responsibilities.
Technique #2: Delegate Tasks to Children
It would be a shame to miss out on the many teaching opportunities present when you delegate home and business tasks to children. Working with you is the best way they can learn vital skills. Make a list of the activities you carry out on a daily basis, and the tasks you need to complete for each one. Determine which of your children are at the age where they're able to learn to do those tasks, and train them to do that.
Technique #3: Assign Themes to Days
One way to establish consistency in accomplishing tasks is to assign themes to each day of the week. Some examples are:
Monday is business marketing day
Friday is family day (plan a fun family activity)
Saturday is home improvement day
Pick major tasks for your themes, and don't try to cover everything you do, because you can't. You should work on forming habits and reshaping attitudes. The details can be worked out through trial and error.
Technique #4: Invest in Software
You may have to spend some money to buy software tools to help you effectively manage your time, or you can use free ones online. If writing everything on pieces of paper or post-it notes isn't working for you, then you have to stop doing it. Some people will never open a day planner, no matter how organized it is. A software application for time management may be what you need to solve your problems. A few options to try include:
Microsoft Outlook
Yahoo! Calendar
Rescue Time
If you can take advantage of software already on your computer or available for free, that's great. You should buy one though, if none of the free options work for you.