Little Known Home Office Ergonomic Seating Options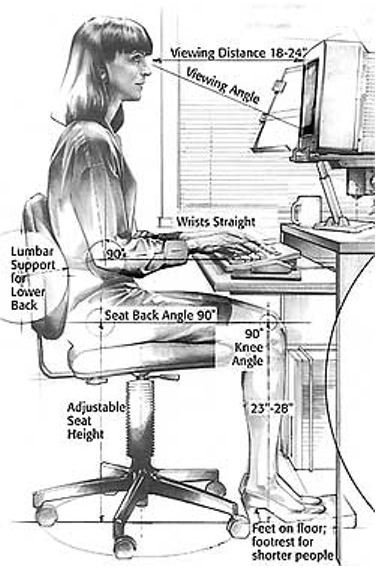 Science Behind Ergonomic Seating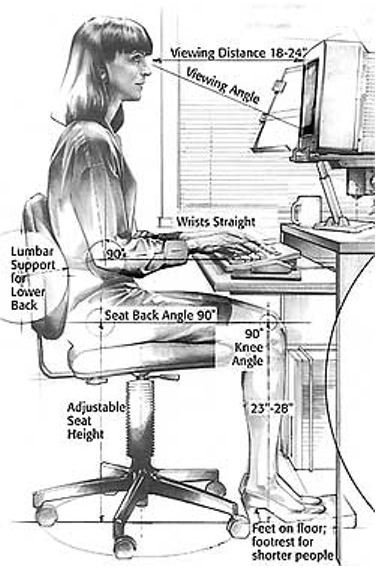 As outlined by the International Ergonomics Association, the goal of the physical aspect of the practice is the use of anatomically appropriate office furniture. As such, the furniture attempts to work with the body to make work related tasks normal extensions that fall inside a range of motion rather than exceed it. Within the home office, ergonomic seating expenditures may appear to be extravagant at first.
After all, investing in a chair that protects against musculoskeletal disorders is not a cheap undertaking. When considering that an entrepreneur usually spends an extraordinary amount of time working at a computer – and realizing that the chair may be adjusted to uniquely fit the needs of the home office user – it actually underscores just how instrumental ergonomic office seating can be for the home worker.
Highlights of a Traditional Ergonomic Seating System
When shopping for new furniture for the home office, standard ergonomic seating supplies would feature:
Height adjustment
Angle adjustment of the back rest
Adjustable lumbar support (supports the lowest five vertebrae a.k.a. the lumbar curve)
Adjustable arm rests
Attachable pillows (optional)
Reclining option (non-compulsory)
Seating for Heavy People and Those of Normal Weight?
Unfortunately, these standard options are not workable for all users. The primary reason for investing in an ergonomically correct chair is the decrease of potential back pain and the subsequent increase of work productivity.
Heavy people in particular may have a hard time finding chairs that work well for them. In part, this occurs because some chairs are simply not designed for the obese. One example is the Boss leather ergonomic executive office chair, which is attractively priced but only supports workers weighing up to 250 pounds.
Introducing the Kneeling Chair
This opens the door to alternative seating arrangements, such as the ergonomically designed kneeling chairs, which support healthy posture through the preservation of the lumbar curve.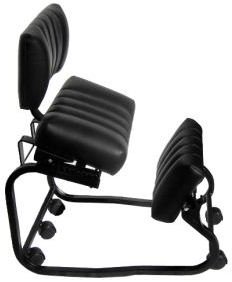 A 2008 study published by the National Institutes of Health outlines that kneeling chairs with a +20 degrees inclination setting came closest to preserving the lumbar curvature that is observed when standing. At first these chairs may be forbidding contraptions, but once the entrepreneur gets over the initial embarrassment of using them, they soon become second nature.
Saddle Chair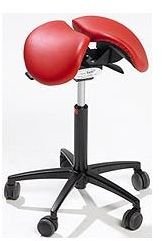 Another oddity that nevertheless earns its place among home office ergonomic seating options is the saddle chair. This kind of chair takes its clues from the equestrian saddle. It lacks a back or even side arms, although some models – such as the Australian made Bambach saddle seat – do feature them as optional attachments.
A 2007 study conducted by the Australian Prince of Wales Hospital revealed that overall long-term seating leads to discomfort. That being said, workers using the saddle seat had markedly lower incidents of lumbar pain than those who relied on standard office seating.
Sources
International Ergonomics Association. "What is Ergonomics" at https://iea.cc/01_what/What%20is%20Ergonomics.html (accessed May 30, 2011)
National Institutes of Health. "Ergonomically designed kneeling chairs are they worth it? : Comparison of sagittal lumbar curvature in two different seating postures." at https://www.ncbi.nlm.nih.gov/pubmed/18810008 (accessed May 30, 2011)
National Institutes of Health. "An investigation into the immediate effects on comfort, productivity and posture of the Bambach saddle seat and a standard office chair." at https://www.ncbi.nlm.nih.gov/pubmed/17942990 (accessed May 30, 2011)
Photo Credits: