Which Ergonomic Office Chair is Right for You? Read this Buying Guide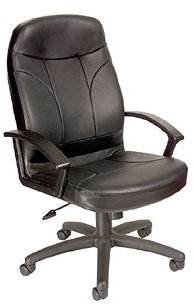 Office Chair Requirements
Good leather home office chairs allow home office workers to perform their duties more comfortably because the seats are designed to relieve back pain and other body pains from sitting too long. The key qualities of ergonomic office chairs include the following items:
Ability to adjust the height and depth of the chair
Ability to adjust the backrest angle
Ability to recline the home office chair
Ability to adjust the armrests
Lumbar support and ability to adjust lumbar depth
Office Star
While many people see the need to have an ergonomic home office chair, most home office workers are not willing to relinquish their comfy leather chairs. In recent years, however, these two technologies have merged so that home office workers can have the best of both worlds. So, here are the best leather home office chairs on the market and their ergonomic to boot!
If you're on a budget, you'll want to be able to buy an affordable ergonomic leather office chair. The Office Star Deluxe Ergonomic Office Chair fits that requirement. At about $300, it's really constructed well, and the chair reclines nicely.
Since it is a budget leather office chair, it does not come with as many adjustments available on more expensive chairs, but for the price, you do get leather and a one-year warranty on the upholstery. So, if it tears, you can get it replaced. The
warranty also covers moving parts (two years) and non-moving metal parts (five years).
Boss
Another budget leather home office chair is the Boss Leather Executive Office Chair. At around $200, it comes with a two piece cushion which is made of leather. The height of the chair can be adjusted for increased comfort. Other ergonomic features include lumbar support and seat adjustment.
The assembly on this chair can be a little confusing. The chair does come with a six-year warranty. The other drawback is that it only has a 250 pound capacity.
Prosumer Leather Chairs
If price isn't important, then home office workers should consider the Steelcase Leap Office Chair. This home office chair comes with additional padding. Ergonomic features include a seat that glides and a back that reclines a lot further than many home office chairs. This chair includes a lifetime warranty on most of the parts, excluding the fabric (covered for three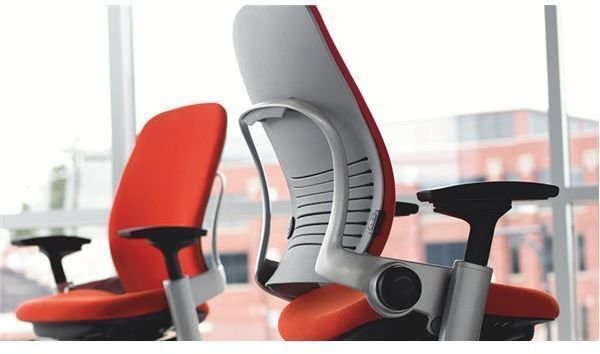 years) and the seating mechanism (covered for ten years).
The major drawback to this ergonomic office chair is the price. At around $850 online, it's expensive. Beyond that, it's heavy at 60 pounds, which means that the shipping costs will be expensive as well. It is difficult for a one person to put it together, but other than that, it's one of the highest rated leather office furniture on the market by both consumers and critics.
References & Image Credits:
Target, https://www.target.com/gp/detail.html/184-2363126-5776816?asin=B000PYI6HA&AFID=Froogle_df&LNM=%7CB000PYI6HA&CPNG=furniture&ref=tgt_adv_XSG10001
Steelcase, https://www.steelcase.com/en/products/category/seating/task/leap/pages/overview.aspx
Overstock.com, https://www.overstock.com/Office-Furniture/Boss-Leather-Ergonomic-Executive-Office-Chair/2328520/product.html