How to Start a Home Based Woodworking Business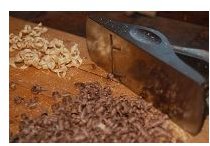 Why a Home Based Woodworking Business?
Turn your passion for building into a home based woodworking business. Whether you're an artisan or someone who wants to help homeowners and others find practical solutions for everyday tasks, there are ways to make a living from home using your carpentry skills. The difference between a home based woodworking business and other woodworking business is that you can build all or most of the projects in your garage or another work area at home. Once the pieces are ready you can deliver them to your customers. Unlike online businesses, where you never have to leave your home, with this home based business you'll get to know and meet your customers. You can also choose to combine both a home based an online woodworking business where you sell your wares to local customers and Internet customers.
Garden Structures
There's money to be made building garden structures for homeowners. Your home based woodworking business can help by building garden structures for pets, birds, and other uses. Here are just a few examples of woodworking projects for garden structures:
Dog houses
Fences
Bird houses
Rabbit hutches
Find free woodworking plans on Do-it-yourself.com and similar websites, or visit your local library. Ask neighbors and others in your community what their needs are to learn what's in high demand. Meet those needs first and then branch out into other garden structures where you can build and generate interest from potential customers.
Miniature Replicas
If you're an artist at heart and would like to utilize your creative abilities, start a home based woodworking business building miniature replicas of other buildings and furniture. Customers may want handcrafted replicas of historic houses, favorite homes, homes where they grew up, their business or a favorite rocking chair. Some people will gift your work to others, use it as a fundraiser idea, on a theater set or as collectible decorations. A customer can send you a picture of what they want, or you may have to do some research based on a customer's request. Your job is to replicate what you see, and ship or deliver it safely to the customer. The great thing about this home based business opportunity is that you can run it exclusively on the Internet through your own website or on established websites like Amazon or eBay.
Woodworking Classes
Teach woodworking classes at your home or online as a business. There's a whole world of do-it-yourself handy people that you can market to and you need to target those customers. Whether it's basic woodworking skills or more advanced carpentry, many children and adults alike want to learn how to build things and your knowledge could be invaluable to them. If you don't want people in your home or are concerned about liability issues, then teach classes online. Put together your own video tutorials and post them on your website. Charge people to download or watch them online. You can then package those video tutorials as DVDs and sell them online or by placing ads in magazines. Video distributors may also be interested in selling your DVDs.
Starting a home based woodworking business takes hard work, a little creativity, and advertising to your target audience. Build your business through marketing and referrals from loyal customers.