Home Based Business in Healthcare: Ideas for a Business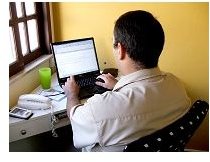 There's no better time than now to launch a home based business in health care. The healthcare reform bill signed into law in March 2010 requires every individual to buy individual health insurance, and many employers also have a mandate to provide healthcare benefits to employees, starting in 2014. Many individuals are reacting to the new law, by making decisions about health care, and some are buying health insurance. Since health care is on many people's minds now and most likely will be for the next four to five years, you should start your home based business in health care sooner rather than later.
Health Insurance Leads
Many health insurance companies are willing to pay for leads generated by affiliates or a leads generation company. The way it works is you build a website around the topic of healthcare or health insurance, and invite readers to fill out a short form in order to receive a health insurance quote or more information. A lead generation company or a healthcare insurance company will pay you for each lead you generate. For example, Prospect Zone pays $5 for every lead you generate from your website, and more if you generate a large number. It's a great health care business, because you don't have to leave your home. Everything is done online, and you can generate leads when you're not working. However, you will have to put the time and effort into driving web traffic to your site and providing well written and informative content to engage and persuade readers to ask for a quote. Don't worry if you don't have writing experience or the time to build up a large volume of content. Hire freelance writers to write articles and web copy, and factor the costs of their pay into your startup costs.
Home-Care Service
Leverage your supervising or management skills in a home-care service business. More seniors are choosing to stay in their homes, rather than go to a nursing home or assisted living community. These seniors need help taking medicines (proper dosage amounts) and other routine tasks. They are willing to pay for help, and their health insurance plan may cover it. In order for it to be a home based business in health care, you'll have to hire independent contractors to start. That will allow you to work from home, market the business, manage the finances and oversee contractors. You can pay them a portion of the hourly rate you earn in return for their services. Be careful to research state and federal laws to ensure that your contractors won't be considered employees. For more information, read IRS Publication 1779: "Independent Contractor or Employee".
Alternative Health Consultant
As healthcare insurance premiums go up, some individuals and families will scale back trips to the doctor's office and search out alternative health remedies instead. If you have a background in alternative health remedies, as a doctor or other health professional, consider starting your own home based business in health care. Market your business through webinars, podcasts and workshops. Ebooks, articles and other informational resources will also help to solidify your expertise and persuade prospective customers to hire you as a consultant. While it's typical for consultants to charge an hourly rate, consider a more flexible fee option for clients as you introduce them to your business, such as a flat fee. You can also sell related products directly to customers or through your website. For example, if you recommend an herbal remedy a lot, find a drop shipper who carries it and have them ship it for you to customers.
Timing is important when starting and running a business. If you've always wanted to start a home based business in health care, it's time to get going.