Control Page Numbering in a Multisheet Excel Workbook So it Doesn't Always Print as Page 1 of 1

Problem: You have a workbook with 12 worksheets, one per month. Although you set the page footer to print page 1 of 12, every sheet prints with page 1 of 1, as shown in Fig. 1217. (Note: Click any image for a larger view of the figure.)
So, what can you do to get past this annoying problem?
Strategy: The key to making this work is to print the entire workbook at once. Organize the Worksheets so that they are in the proper order for printing, with the worksheet for the first page on the left. Instead of using the Print icon, select File – Print. You will then have an option to print the entire workbook, as shown in Fig. 1218.
Result: As shown in Fig. 1219, the page numbers will reflect 1 of 12, 2 of 12, etc.
Alternate Strategy: If you only need to print a few sheets, select the first sheet. Hold down Ctrl while selecting other sheets. You can now use the File – Print and choose Active Sheets to print the selected sheets, as shown in Fig. 1220.
Summary: To ensure your worksheet pages print with the proper page numbers, use File – Print to select printing the entire worksheet.
Commands Discussed: File – Print
Images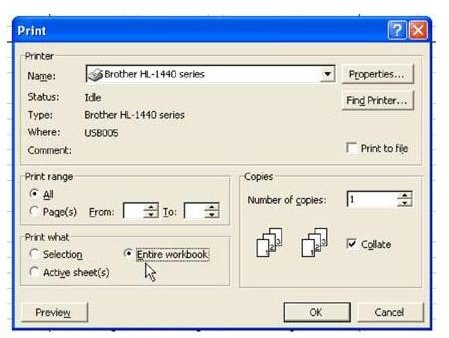 References and Additional Resources
If you're looking for more tips and tutorials, check out 91 Tips for Calculating With Microsoft Excel. This collection of easy-to-follow guides shows how to customize charts and graphs, different ways to make complex spreadsheets easier to update, various formatting techniques and even how to play games like Craps in Excel. Still can't find what you're looking for? Leave a comment below and let us know.
Other Resources:
Microsoft Excel Official Site, https://office.microsoft.com/en-us/excel/
Bill Jelen, Microsoft Excel 2010 In Depth, Available from Amazon.com.