Brother All-In-One Printer Review - The Best Value Printer, Scanner, Copier & Fax Machine - Model MFC-845CW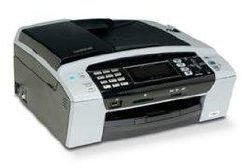 The Brother MFC-845CW made an unexpected appearance in my home office after a trip to Office Max. I don't even remember what it was I went for. There in the middle of an aisle were a stack of Brother all-in-one printer, scanner, fax, copier boxes. I walked past them on the way to whatever it was I was supposed to be getting. On my way back to the register, a single word caught my eye, "Wireless."
All-In-One Criteria
You see, I have a nice laser printer from HP and a great photo printer from Canon. I had a pretty junky fax machine, but truth be told, I don't use fax much. What I was missing was a scanner. It's tough to get a document by email and email it back with your signature on it without a scanner. As a professional freelance writer, this was killing me.
Each new writing gig meant a trip to a copy store so I could scan my signature in. I even resorted to keeping my signature as an image file and doing my best to paste it onto a contract with an image editor. But, when it comes to business, you really shouldn't be messing around with contracts, and so, I wanted a scanner.
The thing is, my two printers, my junky fax machine and my file boxes take up all the shelf space I'm willing to use for such things in my home office. So, it was either put a scanner on the floor, or figure something out. The other flaw in my home office is that my accessories are not right next to my desktop computer, so the USB cables run along the floor. Add to that the fact that I also use a laptop computer and in order to print from it the desktop has to be on (or I have to go over and plug into the printer).
It all adds up to me wanting a printer, scanner, fax, all-in-one, BUT it had to be able to connect to my wireless network by itself. The price? Too high.
Price to Value
I never asked what the deal was, but on this particular day, the Brother MFC-845CW all-in-ones were sitting in the middle of the floor with a sign in front of them. The price? Less than $125! Whatever. But, there was that word, "Wireless." So I looked closer. Not only was it wireless, but it was also color. It also had a phone built into it so I wouldn't have to keep an extra one back in the office.
The specs looked impressive, so I did something I almost never do. I bought it without reading a single review about it or any other color wireless all-in-one. Look around, and you will barely find that price today for the same kind of machine.
They are coming out with new versions of this all-in-one all the time. You can purchase the latest version of the Brother All-In-One printer online.
Yeah! It's Good
The verdict? Score!
The printer on this thing is not fast. No problem, I've got a black and white laser printer that cranks out the pages when I need to print. The printer is very good though! I needed some extra real estate fliers one day. I printed a few on the Brother printer just to tide me over until I could get someone to print them on a "real" color printer. The results were amazing! Every bit as good as any other print job we ever had, free or paid, and that was on just thick glossy brochure paper I had laying around. Now, I've printed several photos for my daughter (tigers, kitty cats, etc…) and they come out great. I've never used it to print a photograph for framing (I have that Canon printer for that) but the quality is good enough for anyone who is not a photography enthusiast. If you are just looking to print a 3x5 to mail to Grandma, this thing has you covered.
How about scanning? This is where it got weird. I could print and view the device, but it would not scan to my computer over the network. Not by pressing the buttons on the front, not by using the software. I could scan to a Compact Flash card and the results were great, but not being able to do it over the network was a bummer. Since I could print I didn't understand what it's problem was. I checked the firewall, and never did find a problem. Then, I had another issue come up, and I reset my Norton Firewall and Presto, scanning worked. I will not be re-buying Norton when my subscription runs out. (This isn't' the only thing. Google around, Norton gets in the way of tons of stuff, and you usually can't tell why.)
Scan quality is great and the included software comes with 4 settings so you can get photo quality for scanning pictures, or you can get lesser quality for a signature page on a contract (thank you very much).
What about faxing? Seriously? Has anything had any trouble faxing since 1999? Just to be thorough, yes, it faxes just fine.
The phone works about as well as my AT&T 5.8Ghz phones (good enough, but nothing to write home about).
It also comes with a "message center". As near as I can tell, that is marketing talk for answering machine, but I don't use it.
Another neat feature is the LCD screen. It helps for configuring and if you ever wanted to print directly from a card, you could use the screen to do it. I never do that because I always find it easier to just load them onto my comptuer and print them from there. After all, I'm going to want to save an electronic copy anyways.
All-In-One Printer Specifications
You want the specs?
Printer Speed: 27ppm black and white (it's a little slower than that in real use, I'd say about 20ppm - that number must be "draft mode" or something)
Color Printer Speed: 22ppm (way slower than that - the spec sheet says "@ 600 x 150 dpi" - yeah, don't bother printing color if you're willing to accept that level of quality - at regular settings I'd say a lot closer to 10ppm - my real estate fliers are MS Publisher files, full page with a picture of the house, and they go off at about 4ppm)
Size: 16" x 14 1/2" x 7"
Sheet feeder: 10 officially - I've jammed 13 in there and it worked
Paper Tray: 100 pages
Output tray: 50 pages
Memory: 32MB
Max Print Resolution: 600 x 1,200 dpi (good enough for anything but pro-level photographs)
Scanner Resolution: 600 x 2400 dpi
TWAIN Compliant: Yes
Scanning Width: 8.26 inches (this is a bit weird if you get somethign that has very small margins - it isn't that you can't scan it all, but you have to position it just right - you'll hit this with magazines or books that are not standard letter paper size)
Card Support: Compact Flash (Type I), Memory Stick, Memory Stick Pro, Secure Digital, and some others I've never heard of
Scanning Formats: Scans to JPEG, PDF, or TIFF
Recommended?
Check out the Brother MFC-885CW if you find one at the same price. It is basically the same machine with some little upgrades.
Overall, I would say I'm very impressed with the Brother MFC-845CW and I would recommend it assuming that you are getting a good price. You can purchase the latest Brother Wireless Printer online.
There are two major drawbacks. One is that the ink is pretty expensive. I've solved that by buying compitable ink from a retailer I trust. The second thing is that it randomly comes on to "clean" the print cartridges. I suppose I'm glad I never get globs of ink, but I would prefer if it would give me a reminder and let me do it manually. It always seems to happen when I'm in the middle of something that would be better done in the quiet, and then the printer starts chugging away.
Otherwise, once you get it setup, it works great.
4 Stars out 5 for General Purpose Home Office All-in-One