Rachota: Simple Time Tracking for the Home Office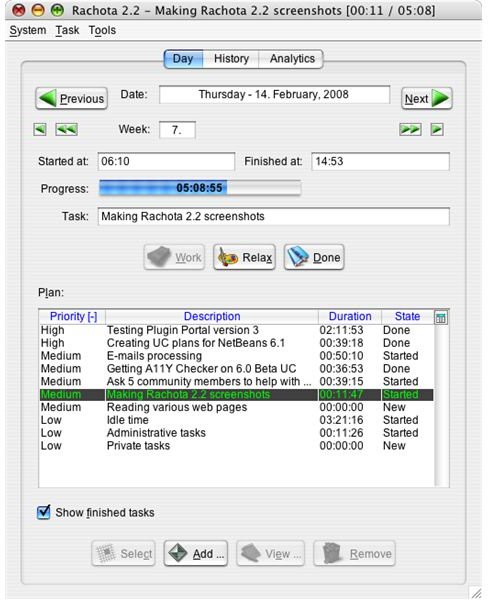 Rachota is a time tracking program written in Java. It is not a large program, it can completely run from a USB drive or on any other platform that supports Java. Despite its small size, it can keep track of multiple tasks, and has a handy analyzer that will tell you where you spent your time.
Some of the features of Rachota include:
The ability to define your work hours
The ability to define regular tasks and start them quickly
A Relax button which allows you to take breaks without stopping the tracker
What it cannot do:
It cannot split your time between multiple tasks (for example, if you are working on two projects at the same time).
It cannot track multiple employees.
It does not integrate with any payroll or billing systems.
How to Install and Use
Installation is incredibly easy. All you have to do is download the .jar file from Sourceforge.net. As long as you have the Java Runtime Environment (JRE) installed on your computer, double clicking the file name will start the program immediately. If you are not installing the file on a USB drive, I would place the file in a folder called "Rachota" as the program will create .xml files to keep track of your projects.
When you first start the application, you will want to set up your tasks. You can set up recurring tasks and your work hours under System -> Settings. Other tasks can be added by pressing the Add button from the Day page.
When you begin working on a particular task, you either double click the entry or click on the Select button, then the Work button. When you take a break, click the Relax button and it will time your Idle Time until you click the Work button again.
The History Page holds your work history. This page is useful when it comes time to bill your customers. You can see the amount of time you spent on a project broken down into working hours or times, the total amount of time spent on a task, and how much time you spent on a total project.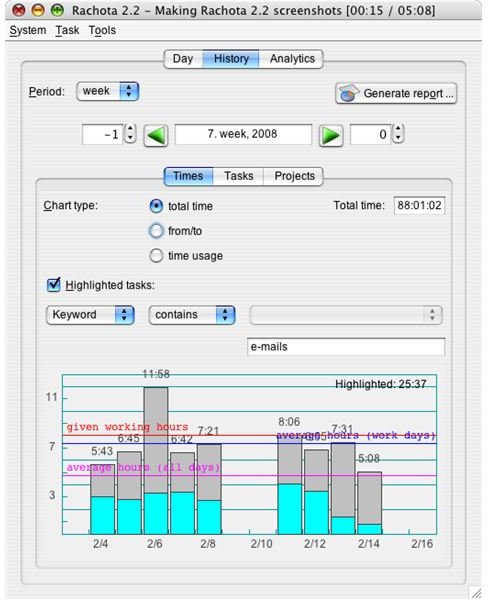 If you want to see how well you are using your time, you can find that under the Analytics Page. This page shows you a chart explaining how your time was spent over the previous week, the previous month, or all tracked time. It even gives suggestions as to how to better manage your time and projects.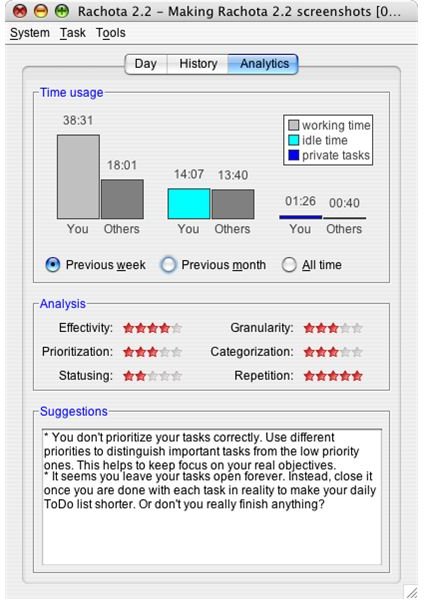 As a simple time tracking device, Rachota works very well. You can easily see your work history and the analysis of your time. It will keep you from overbilling clients, and allows you to work smarter instead of harder. It may even add an extra hour during your day.