How to Use Quicken Online to Manage Your Money & Expenses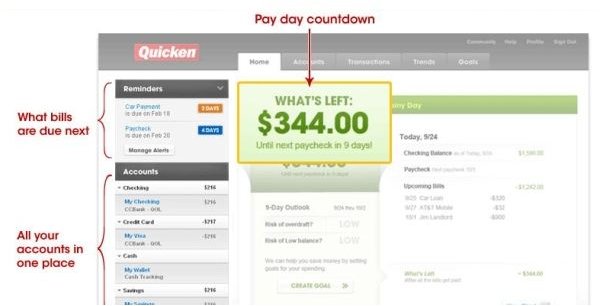 Quicken Online
Quicken is a familiar brand of money management software. Although, there are various versions of this popular tool for purchase their free online edition is the perfect quick solution to tracking your finances. As homeowners, parents, professionals, and entrepreneurs proper money management is essential. Neglecting to monitor your expenses can lead to debt or even bankruptcy. Forms and receipts are easily lost when attempting to keep up with stacks of financial paper records. Checking your current status can also be a difficult task to execute when using traditional bookkeeping methods. Quicken Online has a completely free method to do this and more. Users can maintain all of their financial accounts through their dashboard, receive payment reminders, alerts, schedule, track, and record statements for tax purposes with one click.
Usage & What Quicken Online Can Do?
Using Quicken Online to manage your money and expenses is quite simple. They make the whole process flows effortlessly. After sign-up users are requested to enter their financial data. Quicken Online has the ability to download data from thousands of commonly used financial institutions in the U.S. Your current account balances will automatically load into their secure server and update instantly. The credit cards, checking, savings, debts, and investments are now visible on your custom dashboard every time you sign-in. You never have to be surprised by a bill again. Quicken Online not only displays your balances but it factors how much income you will need throughout the month to accommodate your expenses. Having an accessible visual reminder will keep users up-to-date on all of their financial transactions. Compatiable with the iPhone individuals can check and calculate their money on the go. Quicken sends bill reminders straight to your cell in the form of a text message. For those of us in debt this online money tool has a built-in feature to help budget spending. Users simply enter a few lines of data and Quicken analyzes your next step. Setting up your budget goals is often an easy task but sticking with it takes discipline. Quicken Online sends reminders, strategically tracking expenses, and convenietly keeps you current on you financial situation regardless of who you are.
Quicken Online Screenshots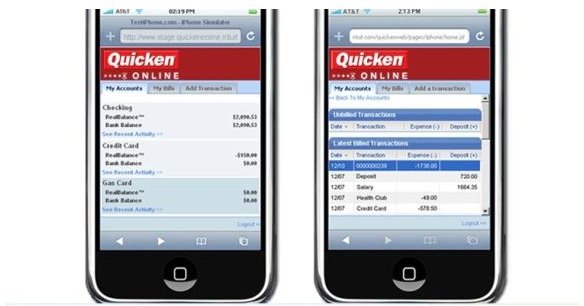 Final Assessment:
Quicken Online has an extensive amount of features that work automatically to securely manage your money. Increasing your income and getting out of debt are two major goals most Americans have on their main priority to-do list. Quicken Online's virtual community section allows users to read informative money blogs, seek expert advice, discuss financial issues with others, and view exclusive 'How-To' videos as well. Geared towards the Web 2.0 social networking scene users can join the Quicken Facebook or Twitter page for financial tips and updates. The entire site is designed to help consumers gain control of their finances from Podcasts to exclusive money guides. If you really want to improve your financial situation management is key. Quicken Online is an excellent virtually free method to view your money from every aspect. Budgeting, saving, and monitoring your expenses has been simplified for Quicken users. I recommend anyone seeking a less expensive route to better manage their money and expenses to check it out.