TextFlow Word Processing Application - Document Collaboration Made Effortless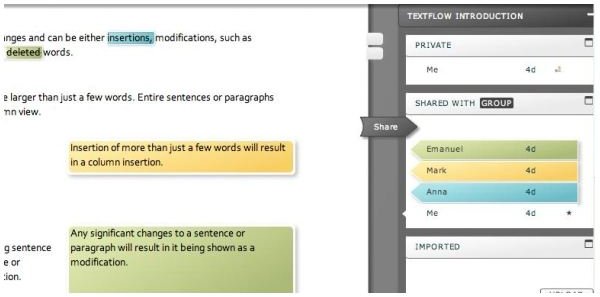 Why TextFlow?
TextFlow has re-invented the way professionals edit documents. This powerful parallel word processing tool allows users to collaborate faster and more efficiently. Several writers can simultaneously review and input feedback on the same document. Using this application tool will save your business valuable time and money.
TextFlow is designed to assist freelancers or companies in their collaborative projects. Created using Adobe Air it simplifies an often complex process of document collaboration. Merging the original document with various modified versions TextFlow generates a revised page displaying all of your fellow colleague's input highlighted on the side. These suggestions can be accepted, fixed, or rejected by the user initiating feedback. Each correction is color coded giving users a visual layout that is easy to comprehend. Instead of sorting through emails, manually comparing Word documents, or writing revision notes by hand TextFlow organizes your revisions for you.
How Does It Work?
Using TextFlow is a simple as a few clicks. Once you've sent your original document through email or Sharepoint for suggestions and received them back open up TextFlow. Drag your original document directly into the window. Then drag and drop your other revised copies. TextFlow instantly starts to synchronize your documents with it's WeaveSync Technology. You now have one single document with all of your feedback to review.
This word processing tool function in your browser and as a software installed on your desktop. Users must log in when they use the browser aspect. The collaboration analysis is completed through a server. You do not have to be online when you wish to work a current active document. The TextFlow software is built on Adobe AIR. It's fully operational on Windows 2000, Windows XP, Windows Vista, and Mac OSX 10.4 systems. For online use browsers must support Flash 9 or higher. TextFlow works seamlessly with .DOC, .DOCX, and .RTF files. This application tool produces a special format named .TFX for storing active documents. All formatted .TFX files can be exported back into a .DOC file when editing is completed.
TextFlow Screenshots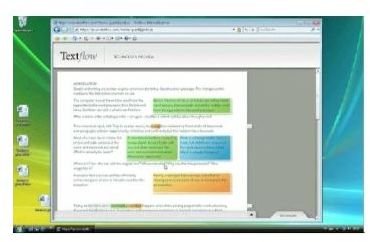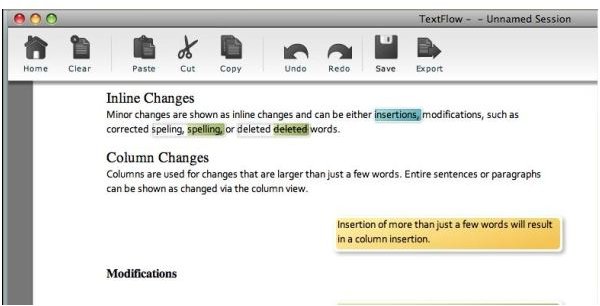 Final Assessment: TextFlow
When it comes to collaborative word processing 'Textflow' has the competition beat. This ingenious online application tool allows users to quickly edit multiple Microsoft Word documents with ease. Writing and reviewing collaboratively significantly reduces the likelihood of error. It also saves an immense amount of time. Textflow is an incredible parellel word processing tool for any individual in need of effective collaboration while maintaining their existing workflow. The colorful streamline presentation provides users with the perfect environment for editing.
TextFlow is actually easier to use than Google Docs which requires individuals to manually input feedback into existing documents. This powerful application tool quickly syncs information together simplifying the entire editing process. Whether you're a freelancer or business owner your document collaboration experience can be enhanced with TextFlow. When drafting proposals, legal documents, press releases, articles, business plans, or marketing materials having a method to collaborate with other professionals is essential.
TextFlow enables users to create the best possible document in the least amount of time. Nordic River excels expectations with this word processing tool. TextFlow is available in a free personal edition and a business edition for $99 a year per user. For more information about home office application tools read ' Desktop Management with BlogDesk.'