TASCK - The New To-Do List for Freelancers & Small Businesses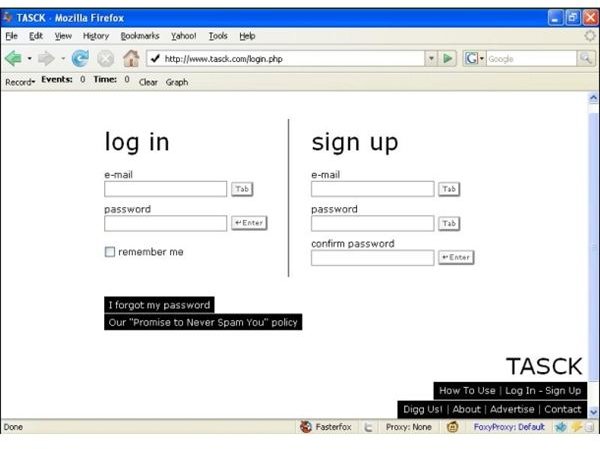 The To-Do List For Freelancers
When you're self-employed as a small business owner or freelancer making your deadlines and keeping up-to-date is critical. Whether or not you meet your deadlines in a timely manner determines if a client will want to work with you again. A disheveled business can damage your reputation. Organization is the key to freelancing success. Establishing a system to assist in organizing your daily tasks will produce the results you need to excel. To-Do Lists provide on the go individuals with a prioritized list of tasks that require completion. It's not just a list of meaningless objectives or nonspecific goals. They list defined clear-cut tasks in order of importance. Following itemized objectives greatly increases productivity and overall time management when achieving your daily goals. Prioritizing your work establishes a solid plan for action. To-do lists works as a visual tool to help keep you on track.
Many freelancers who attempt to utilize to-do lists find themselves still struggling with disorganization. Using common notebook or pen and paper methods can create additional clutter. Expensive software often complicates the process designed to simplify your life by bombarding users with needless features. Luckily, the creators of TASCK had busy freelancers in mind when they produced this streamlined alternative to the traditional to-do list. TASCK give users a virtual to-do list that they can access at their own convenience to stay better organized.
What is TASCK?
TASCK is a pure and simple online application. It's designed to conform to the organizational needs of busy freelancers and home based business owners. TASCK is a virtual to-do list without the fluff. The streamlined interface provides users the functionality they require minus the excess features that often complicate things. There is no time consuming downloading or hard to understand instructions. The minimal design creates a clean page for freelancers to enter and balance multiple project tasks. Whether you live the life of a freelancer, business owner, college student, offic employee, or on the move soccer mom TASCK can keep you organized.
TASCK Screenshots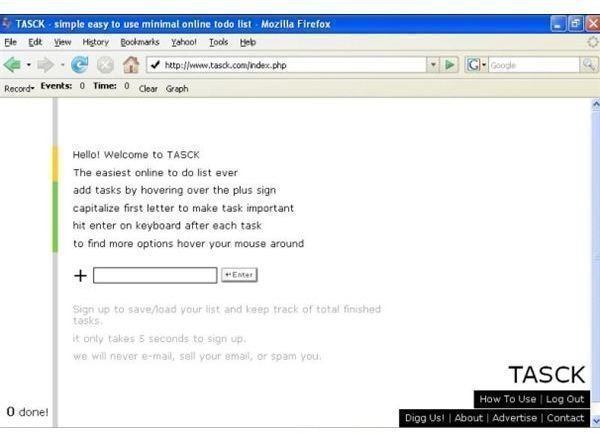 How does TASCK work?
TASCK is as uncomplicated as it's design. Users simply go to the website and sign-up via email. You instantly have access after the sign-up process. When you move your mouse over different sections of the page a pop-up appears with options like a plus or slash sign. Click the plus symbol to add a task to your to-do list and then hit the enter key. That's it! To mark any of your daily objectives as high priority capitalize the first letter of the task. It will show up with a yellow line instead of green. At the bottom of the page is a number in bold font. This is a counter which tracks the amount of tasks you finish daily. The higher your number the more productive you are. If users fail to log in for over 60 consecutive days their account will be deleted. TASCK does this to save data space in their server.
Final Assesment:
TASCK.com is a relatively new online application with incredible potential. It's the new to-do list. Created to give users a crisp platform to organize and prioritize their daily objectives TASCK produces. It's simplistic and completely free to use. This online tool allows you to get more done without unneccessary features. The minimal design makes it easy to manage and break down tasks in smaller steps. To-do lists are one of the most important methods in being productive and effective. Using an online to-do list will help you achieve a higher level of productivity in your home office. Feel capable and confident in what you do. Cut down stress while lightening your workload by using a virtual to-do list like TASCK. For more information about organizing your business read 'Smart Time Management.'