Multifunction printers can make the life of a home-office worker easier by consolidating the printer, scanner and fax into one machine.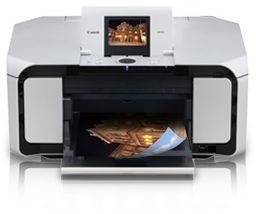 Canon and Pixma
As a home-office worker, you need and want convenience, usability and, above all, machines that don't take up too much space. You don't have stretches of bare spaces like your colleagues that work in the office to waste. But, there's good news on the printer front. Multifunction printers used to be a parade of unreliable and often inconsistent pains. The technology behind these printers have, however, come a long way and are now a good choice for at-home workers.
Canon is known for a lot of their products from cameras to camcorders and now their multifunction printers. Both of their latest color multifunction printer releases, the Canon Pixma MP970 Photo All-in-One and the Canon Pixma MX850, are getting great reviews.
The Pixma MP970 ($200 to $400 retail) is perfect for any home-office worker looking to produce photo quality graphics for any internal business function. If you're looking for something high quality enough to give to clients, this may not be the machine for you. This printer sports a network connection, dual paper feed, duplexes and the ability to scan and print from 35mm film.
The Pixma MX850 at between $250 and $300 retail would be a nice, inexpensive addition to any home office. It's fast and efficient. And, what's even nicer about this model is that it has standalone copier and fax functions. One minor drawback to both of these models is the non-standard network setup. Once, however, you get over that hurdle, these are great machines for any home office worker.
HP
HP also has been producing some very admirable multifunction printers. Their HP Color LaserJet CM1312nfi (retail $500) is jam-packed with almost every feature that you will need when working from home. It, too, can be a standalone fax machine and color copier. You can scan and fax with this machine, and it's networkable. Some of features that makes it special is the automatic document feature that can hold up to 50 pages and the ability to scan legal-size documents.
While the text quality is quite good, this machine will not be as fast as a normal color laser, and it doesn't hold as much paper in the main tray as most other printers. But, it's still a great option for you.
HP also has a monochrome printer for those who mainly work with just black-and-white. With the HP Officejet J6480 All-in-One ($170 to $230 retail), you can print, scan and fax. It too dons a standalone copier and scanner. And, it can be used in your wireless home network. The drawbacks to this model is the speed of prints and copies.
Finally, Brother also has introduced a superior monochrome laser all-in-one printer. The Brother MFC-7840W ($300 retail) is speedy and has an automatic document feeder that can hold up to 35 pages. Like the others, it has a standalone copier and fax. It has a full set of options for you and your home office, including networkability, compact size and above standard text quality.
Most of these multifunction printers have the same minor drawbacks, including thin lines on your graphics will disappear and the ink will cause standard paper to curl. But, for most home-office workers, any of these models would be an asset for you.
Read a review of some of the best multifunction wireless printers on the market at Consumer Reviews - Best Wireless Multifunction Printer by Babes.
Images