How to Create an Online Collaborative Presentation Using Google Apps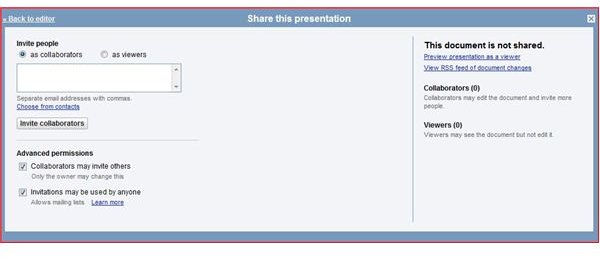 An online presentation allows you to share your ideas, products or projects at anytime with anyone you choose. The presentation can be posted on a website or sent as an email link to specific individuals. Online presentations are a great way to showcase ideas or used as an online project portfolio.
Using Google Apps, the online presentation can easily become an collaborative project. Up to ten people can simultaneously edit the presentation in real time and up to 200 people can view the presentation as it is being created. Collaborators can communicate through the Apps Chat application.
To create an online presentation log into your Google Apps account. Open Google Docs, click on File > New > Presentation.
Add Collaborators and Viewers
Add collaborators and viewers by clicking on the Share tab on the top of the presentation work screen and choosing Share with others. Type in the person's email address and designate this person as a collaborator or as a viewer. Click Send to send an invasion or simply click add to add the person without an invitation.
Turn the presentation to View mode to enable the chat application. A list of collaborators will appear at the bottom of the screen. Click on a name to chat with that person. Note that Adobe Flash is required to enable the chat feature.
Create the Presentation
Begin to create the presentation by choosing a theme. click Edit > Change Theme. A variety of basic presentations will appear. Choose one and click OK to continue.
Add slides to the presentation by clicking Slide and choosing a new slide or a copy of an existing slide. There are a number of pre-formatted slides to choose from in a variety of layouts including:
* Title Slides
* Image / Caption
* Columns
* Blank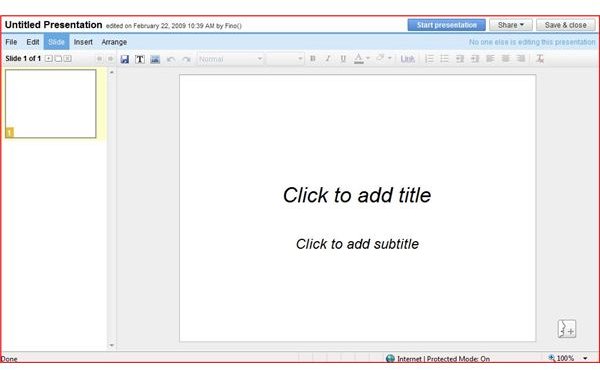 Add text and images to the presentation using the main tool bar. Click the text tool to add text, click in the slide and begin typing. Add images by clicking the Insert Image icon and choosing an image from your hard drive or by supplying the URL of an image located online.
After creating the presentation you can save it as a PowerPoint presentation, a PDF file or as a text file by click Save As on the File menu. You can also print either the entire presentation or just a set of speaker notes by clicking Print in the File menu.
Share
Share the presentation online by sending it as an email link or as a HTML page. Click the Share tab. Choose to share the presentation by publishing it to the Internet or by sending the presentation as an email link.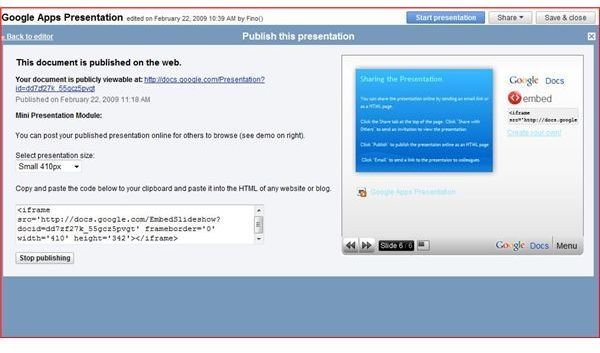 Resources
Visit Google Apps for Business Website to find out more on about Google's free online collaboration tools.
Learn more about Google Presentations: Learn How to Add and Edit Speaker Notes with Google
This post is part of the series: Google Apps: Collaboration Tools for the Home Office
Learn how Google Apps free online collaboration tools can increase the productivity of your home office.