How To Use QuickBooks Simple Start Free for Home Office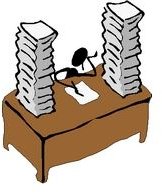 QuickBooks Simple Start Free
Intuit's QuickBooks Simple Start Free 2009 is a free version of the more powerful and common QuickBooks Pro application. It is tailored for use by small businesses who don't need anything more than help keeping track of finances and doing basic tax calculations. It is perfect for one-person shops and other small entrepreneurial efforts.
The most critical limitation in QuickBooks Simple Start Free is that you are only allowed to create 20 clients. So, for freelancers or others with a small clients list that fills up all the billable hours, it is a great option. For businesses that rely on more clients, it won't work. There is a paid version of QuickBooks Simple Start which lists for $99.99 but with QuickBooks Pro frequently offered for near the same price, it isn't cost effective to purchase the Simple Start edition.
Using QuickBooks Simple Start to Run Your Home Office Business
Installing QuickBooks Simple Start is as easy as double clicking the setup file. Once installed, a wizard guides first time users through setting up the company. Basically all you have to do is enter in your company name, address, phone number, and so on to get started.
Once inside the program a user friendly heavily graphical interface guides you through using QuickBooks Simple Start. You can begin using QBSS right away without having to do any real setup. If you try to do a task that requires another feature to be setup, QBSS will notify you and allow you to set it up while it waits.
For home office small businesses, there are a couple of tasks that should be done up front for maximum efficiency since you are just going to bump into having to do them anyway as you try and use the program.
First, setup your primary banking account. That way, you have a place to put those incoming checks and electronic payments. Even if you have multiple accounts, you can always break that out later if you choose, but you need at least one account to get anything useful out of the income functions.
Likewise, you'll need some client accounts. If you want to get around the 20 client limit, then you'll need to create generic clients to be used in place of real clients. A freelance designer, for example might create a generic online client, a generic local client, and a few real clients for his biggest customers. This is necessary to get QBSS to track billing and invoices (you have to tell it who you are billing.) Whether or not you use the QBSS billing or just use it to track your bills is up to you.
After that, you can jump right in. As you click each icon QBSS guides you through the task at hand. Once you have accounts and clients to assign everything to, the rest is pretty intuitive.
Sooner or later, you'll bump into functionality that is only available in a paid version. If you can get away with not using it, you can keep using the free edition. If not, then start looking around for a good deal on QuickBooks Pro and you can use the free edition in the meantime.