How to Choose a Whiteboard for Your Home Office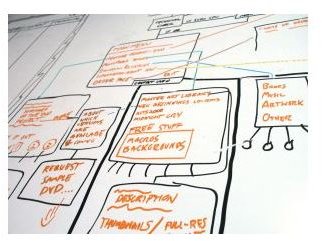 Whiteboards are one of the most versatile and little known tools in the freelancer's home office. While many use cork boards to tack up to-do-lists and post-it notes—over time, this can be costly by going through so much ink and paper.
The whiteboard has evolved over the years and is no longer a plain white board with black scribbles. Today, the whiteboard can be condensed into a small 8x10 version to a piece of wallpaper that extends across the entire room—great for the creative mind and the starving artist!
The whiteboard wallpaper comes on a solid white, magnetic white and transparent background. The solid whiteboard wallpaper, Opti-Rite 1 can trail around the room and is perfect for organizing visual data, contacts and to-do lists. The magnetic wallpaper, Opti-Rite 2, is the perfect choice for using magnetic items to tack up paper copies or photos that need to be utilized for a project or presentation. Transparent versions such as the Opti-Rite Clear, are great for overlaying on original documents or presentations that you do not want to manipulate. This allows you to add to an existing project and change information as needed.
The Opti-Rite 4 is a wall covering that comes with a grid background design. This is perfect for creating temporary graphs, charts and utilizations neatly and effectively.
Full size whiteboards are a great way to create an idea wall or organize visual lists that can easily be seen. Often times 5, 6, 7 or 8 feet tall—there is plenty of room to write, draw and plan out the direction you need to go.
Some whiteboards can be created with custom made designs and templates that revolve around your home office needs. Grids, spheres, logos and landscapes are just some of the ideas that can be implemented into a custom whiteboard.
Lap Boards are a condensed version of the full size whiteboard. Lapboards are a great alternative to daily task managers or paper planners. On these you can quickly jot down daily tasks or phone messages—versatile and easy to use.
There are many accessories for the dry erase board as well. Colorful dry erase markers come in almost color imaginable from a pale pink to neon orange—let your artistic ability show through! Magnets designed in spheres or squares can serve as instant bullets in a thesis you are trying to organize. Vinyl chart tape is also an option if you have a whiteboard that does not have grid lines. With tape you can create unique charts and organize information instantly. A great tool for the freelancer who is juggling multiple clients and deadlines.
Keeping track of clients, projects, ideas and personal information is easy with the help of any one of these whiteboard styles.