How to Set Up Dual Monitors to Increase Productivity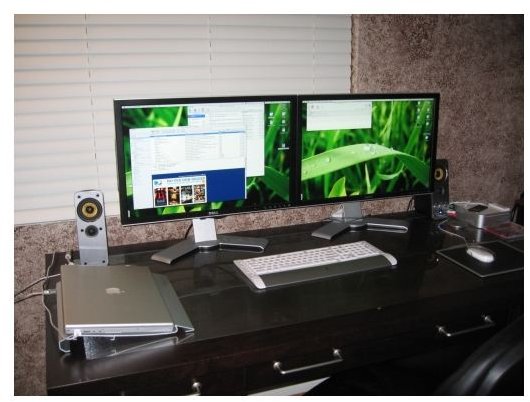 As time passes, new technology leads the way for more efficient work options. When you are a work at home guru, time is money. You must be responsible for meeting deadlines, getting work in on time, and being as efficient as possible. A good way to help you be more productive is utilizing the technology of dual monitors.
Running dual monitors is not a new concept to computer enthusiasts. However, it is a concept that has evolved a lot over time. With dual monitors, you have much more room to run programs that require use of multiple applications. When you make your money working on a computer, It is crucial to have a good monitor setup in the first place… even if you are only running one monitor. It is easier on the eyes, and can make your at home work life much simpler. Many business offices that people work for provide their workers will dual monitors in order to make work easier on their employees. If you don't have the benefit of an IT department to set it up for you, learn more about the process here.
Setting Up Dual Monitors
Running dual monitors requires that you have two monitors. Using two monitors will allow a worker to drag items from one screen to the other while also keeping them open. This is a great alternative to having to minimize and maximize applications all the time. It also allows for open applications to be readily accessed and kept in view at all times. Utilizing dual monitors can increase productivity up to 40%.
Configuring dual monitors is often a lot simpler than most people would think. Both Windows and Mac OSX have a simple drag-to-position interface to setup dual monitors. In Windows, this menu can be accessed through the display settings found within the control panel. In OSX, this menu can be accessed through the display settings found within the system preferences pane.
The option to run dual monitors requires either a DVI port or VGA port and a compatible video card. Most computers, no matter how old, have these options readily available. In certain cases, if you have an old television laying around, it will be compatible to use as a second monitor. Simply plug the second monitor in to your working computer, set up your display settings and you're up and running!
Personally, I use dual monitors. It has increased my productivity a lot when multi-tasking. I highly recommend this for anyone, and you never know how much it will help you until you try it. Also, when using your computer to watch movies or do other non-work related tasks… having dual monitors is awesome.
Other Suggestions
Find two monitors that are close to the same dimension and resolution. Better yet, purchase two of the exact same monitor.
Don't spend a thousand dollars for a new monitor. Often when buying a monitor, you are paying for a brand.
Make sure that your monitor of choice supports the optimal resolution of your computer.
Run into problems? Try some of these troubleshooting solutions.
Dual Monitors