Managing Virtual Teams: Getting Commuters and Telecommuters to Work Together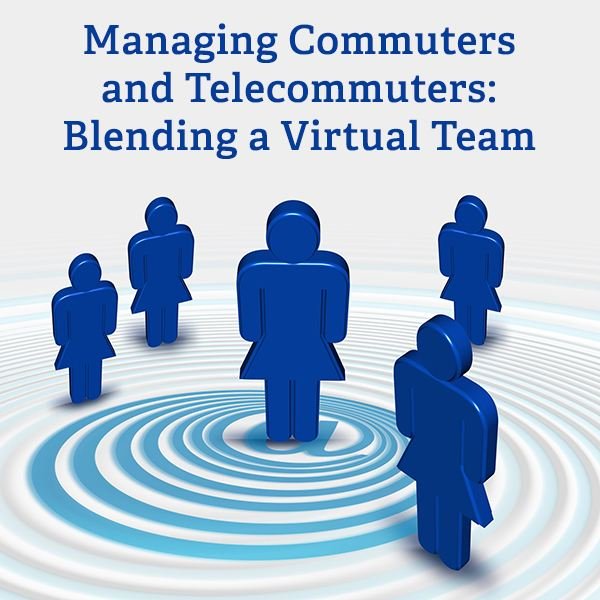 The Workforce in Today's World
Many managers have found themselves with an interesting challenge, managing teams mixed with both onsite and off-site members. As described in the article Managing Telecommuters – Out of Sight but Not Out of Control, managing telecommuters has its own challenges, however, managing a mixed team can add to the challenge by adding jealousy, resentment, favoritism, and miscommunication to the pot. It is important to see all workers the same, and with the same ultimate goal – getting the work done.
How on-site and off-site opportunities are selected will be an important step in a successful implementation. Whether team members who remain on site, do so because their jobs or work types do not lend themselves to off-site or remote environments, or because of the worker's lack of experience, or simply because 'not everyone can telecommute,' it is important that the criteria be defined before the program begins. Use your management skills to formulate the implementation plan for the program.
As you identify the participants in the telecommuting program, or the positions or work types that are eligible, it's necessary to work carefully with the non-telecommuters to avoid the feelings of resentment, which can form regarding "why was that person chosen instead of me?" Prepare in advance the necessary documentation you'll need to support the decision of why an employee or task was chosen to participate over another.
If you have non-telecommuting employees who have been excluded from participating in the project due to job performance, a program may be implemented to assist these employees in raising their job performance rating to a level, which will allow them to participate in the program. It's up to you, the supervisor, to communicate this information to the employees.
Here are some ideas that might make everyone work together better:
It takes a team effort: All team members make the group successful or not successful. So the team needs to feel as though they work as one, and not that the non-telecommuters are the only ones pulling the load, or that the telecommuters are special, or any other classification that may be thrown around. Even the success of the telecommuting program is dependent on the entire team – telecommuters and non-telecommuters alike. As with any work program, if the team environment suffers and is threatened, the program is at risk of being shut down.
Support strategies: One way to make sure the non-telecommuters don't feel they are left to do all the work in the office, is to set in place strategies that benefit everyone. Perhaps technology solutions, or even an old-fashioned buddy system can alleviate the stress. Especially if workers telecommute on a part-time basis, perhaps team members can alternate, taking turns providing the on-site support tasks. Also make sure that telecommuters have a way to check email, phone messages, and respond to emergencies, not leaving it all up to their on-site counterparts.
What to say: Establish guidelines for how to refer to telecommuting workers, especially to customers. Maintaining a professional and confident presence has always been the norm, so why would this present a different concern. For example, you wouldn't inform a co-worker or customer that someone was in the restroom, would you? Of course not. You might try, "Mr. Jones is out of the office right now, however, he can return your call at 2:00," or "Mr. Jones is working at a remote site today, I will have him return your call as soon as possible." Or when a telecommuter makes phone calls, and asks for a co-worker or customer to return their call to a cell phone or home-office number, instead of their desk phone number, they might say, "I am at a remote location today, please call me back at this number." Work should be seamless, regardless of worker's location.
Maintaining social network: Establish virtual opportunities for social networking within the office. Set up occasions for workers to interact via phone, email and instant message systems. Be aware of telecommuter's schedules and try to find at least one day a month for a team meeting face to face. Or establish a web conference session with web cams, if possible.
By keeping in mind the needs and viewpoints of both telecommuters and non-telecommuters, you should be able to establish and maintain a cohesive virtual team.