4 Tips to Staying Focused When Working From Home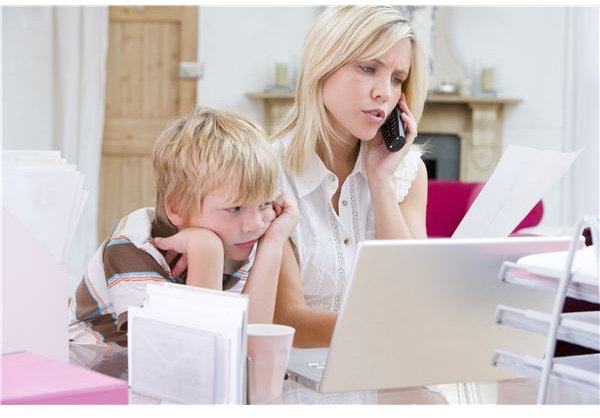 Many people who transition to the work-at-home environment can experience difficulty concentrating during the day. Home office workers are particularly suceptible to blurring the lines between work time and personal time. They are surrounded by distractions: the pile of dirty dishes, phone calls from relatives and to-do lists. On the flip side, when trying to relax at home they may feel the need to check their email, finish up an assignment or respond to work requests.
This type of blurred schedule can lead to inefficiency both in your work and in your household duties. Learn to strategically manage your time in order to meet deadlines at work while still getting things done around the house and enjoying your family.
1. Determine a Loose Structure to Your Day
Develop a flow between work and all other responsibilities. Your schedule doesn't have to be hyper-structured or forced—that probably wouldn't work anyway. Base your schedule on your observation of an average day and the natural flow of energy and time.
There is a lot of advice out there about how to schedule your day when you work from home, and it ranges from hanging a viewable calendar to using a timer or alarm. And that does help a lot of people. I tried using an alarm but found that often the alarm would go off while I'm in an excellent moment of inspiration. If you are particularly passionate about your work you might go an hour—or hours—past your allotted time.
So, keep your schedule as loose possible. For example, when I wake up, I check emails on my phone before I turn on my computer. I only use the computer if I see something that I must attend to immediately. Then I concentrate on my kids and get them to school. After they leave, I can focus on work. If you observe, you'll find other natural breaks in your workday. I take a break from work when I complete a first draft, after I submit an assignment and when I move from one client project to another. These are great times to do something else for a little while. Exercise. Do laundry. Make preparations for dinner. Organize items for errands later. Walk around the house.
2. Take a Power Nap
This can actually be a great focus tool. The power nap was adapted from an ancient Spanish and Latin American practice. In the 1980s, Americans turned the power nap into a 2-3 hour deal in the afternoon. But a power nap is really a short nap—sometimes taken as early as 10am—for 5-15 minutes. Theoretically, a nap that short won't make you so groggy when you wake up, you won't be sleepy for the rest of the day and you will still sleep well at night. Observe when you're the sleepiest during the day and take your power nap then. You won't be able to concentrate if your eyelids are heavy.
3. Meditate
Some people find that meditation is a great way to start the day when working from home. Meditation can ge a great focus tool, helping you to harness your energy and solve a multitude of issues rolling around in your head. There are many different forms of meditation. One Zen practice, for instance, has you stare at a blank white wall; one of many ways to clear your mind of repetitive and non-useful thoughts so fresh new ideas can surface.
4. Walk Away From the Computer… Exercise!
One of the biggest benefits of working from home is the ability to exercise in the middle of the day without rushing through your lunch hour. Depending on when you like to exercise, a jog or walk outside can be a great break during the workday. Even if you just take the dog for a walk and do a few stretches after, you'll reap great rewards. I can't tell you how many times I've found inspirational solutions when I leave my desk for a few minutes to walk around in nature.
There are, of course, apps and books available to help you improve concentration and staying focused. Pay attention to gaps in your day and natural down times. Use them to your advantage. A lot of organization—and a few deep breaths away from your desk during the day—will ensure your success at your home office.
References