Create and Print Your Own CD Labels and Covers Using Photo Explosion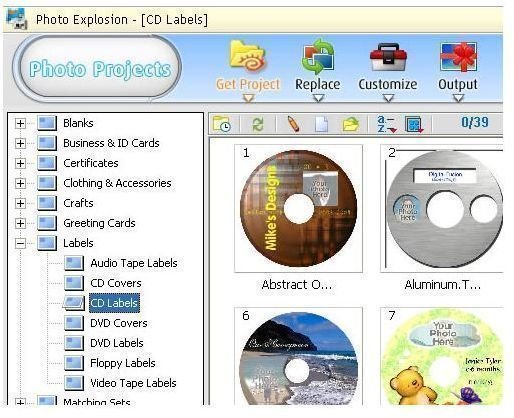 In Photo Explosion you can create your own CD Labels and Covers. They provide quite a few templates for you to choose from. All you have to do is insert a photo, if you want to use one, and add the text. The rest is done for you. Photo Explosion is great to have on your Home Office computer because it allows printing CD Covers and CD Labels as easy as pie. In this tutorial I will show you how to create the CD Labels and Covers using Photo Explosion.
Opening and Finding Your CD Labels and Covers
The first step is to open the Photo Explosion program. Once the program loads, click Create. On the right side of the interface you will need to click the Photo Project button. The Photo Explosion window will now fully open.
On the left side of the window, you will see a list of folders. Click the plus sign beside the Labels folder. When the folders expand, click the CD Labels folder. We will start with the CD Labels.
Creating Your CD Labels
On the right side of your window you will see all of the CD Labels that you have to choose from. Browse through the labels and find the one that you want to use. Double click the label to start creating it.
You can insert a photo into the place holder if you want too. If you do not want to use a photo, right click on the photo holder and click Delete. That will remove the photo and the place holder. To use a photo, locate the photo on the left side. Click the photo and drag it to the place holder. Adjust the photo if you need too. Then click the Apply button in the left panel.
Now you can change the text. Double click a text field to edit the text. When you double click a text field, you will see the text box in the left panel. Delete the text and type what you want in the text field. Change the text properties in the left panel and click the Apply button. Your label is now ready to be printed. Click the Output button at the top of your window and select your printing options.
Creating the CD Covers
Now I will show you how to create the CD Covers. Click the Get Project button at the top of Photo Explosion. On the left side, click the CD Covers folder. You will see the different covers on the left side of your window. Double click the cover that you want to use. Change the photo and text the same way you did with the CD Labels. Then print your CD Cover the same way you printed the CD Labels.
This post is part of the series: Photo Explosion Tutorial Series
This series shows you how to use Photo Explosion.