Find Client Management Software Solutions to Meet Your Home Office Needs
When you've been working at home for any amount of time, you'll find soon that you'll need a better system of keeping track of all those leads, prospects, and current clients. Enter software into the picture. If you find the right program, it can make your life much easier, and you'll have to do a lot less work in the long-run. While there have been some old standards for CRM, it's important to think outside of the box when it comes to managing clients.
There are many different options, which may help you. You can use software that's delivered on-demand, through the internet, you can use software that installs on one computer, or you can use software that installs over a network. Because it's unlikely that you will need the later of the three, I've picked out five options that challenge the traditional software. The software on this list is easy to use, affordable, and has neat features, which may help the home office worker to best manage contacts, clients and leads!
Zoho CRM
There is a very good reason Zoho applications keep showing up on my lists: They are easy to use, they interact with one another as a suite, and you can purchase a subscription that will meet your exact needs. There's great news associated with this program - it's free for up to three users! Should you need to upgrade the program, you can purchase subscription packages. For $12 per user per month you can send mass emails and mail merge using Zoho Writer. For $25 per user per month, you can chat with a group, create escalation rules, and create autoresponders for emails.
Most of the features a home office worker would want are contained in this program. You can track leads (including where you found the lead), set the action required for that lead, and track tasks associated with leads. You can track your advertising and marketing campaigns, and set target figures to earn during that campaign. Wouldn't it be great to meet your financial goals?
Pros:
The program makes it really easy to track when you should follow up with leads and prospects
Track tasks associated with particular clients and potential clients
Set marketing goals and gauge your performance against those goals
Track quotes you send out, and the results of those quotes, in one place
Cons:
The program may have more features than you will need should you only want to track current clients
The program may not have what you need (mail merging, inventory management) unless you subscribe to it, but at only $12 a month, it's a deal
Free CRM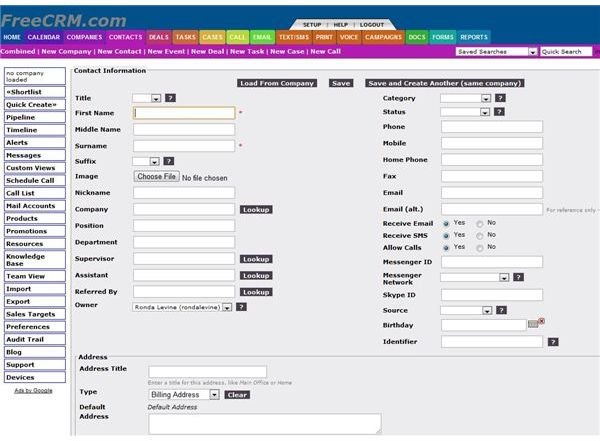 Free CRM is like it sounds - free! Before you get excited and leave the article, you should learn about it. First, like Zoho, it's offered on-demand, which means that you'll need an Internet connection to access your database. This is great because you can access the program from anywhere, but you should also be aware that if you need to access a client file and you're, say on the airplane, it will be difficult.
Caveats aside, Free CRM is a great option. You can track tasks, inventory, and campaigns. You can also send SMS text messages to clients, email clients, and track notes on phone calls in one place. What makes the program especially exciting is the ability to track your documents in the same place as everything else. Should you decide you need to upgrade, it costs $24.95 per user per month. This option allows you to sync with your mobile device.
Pros:
You can have up to 50 users on the free version
You can do just about everything in the free version except receive alarms and sync with your mobile device
The application makes it easy to access your database from any location
You can track everything client-related in one place
Cons:
The program has a lot of features that you may never need to use
The program takes a little bit of navigating to adapt to it - while lots of features are nice, it's just not intuitive to find those features
Big Contacts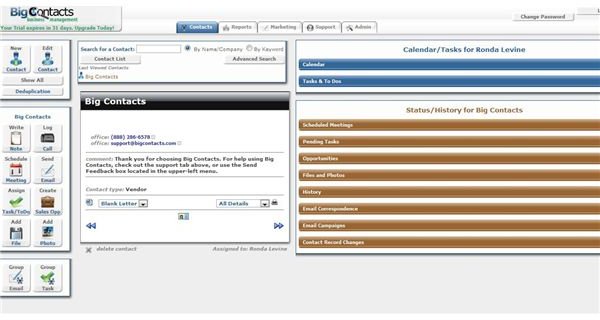 If you've been used to managing your clients and contacts in a program like Microsoft Outlook (or if you haven't used anything at all other than Word or Excel), you might want to check out this program out. This is an on demand program, so it's delivered to you through the internet. The creators of this program specifically aimed for the small business audience with this program - and they did a very nice job in meeting small business needs.
The program can be customized to meet your needs. Additionally, the program is very easy to use. While the program is extremely useful, and it has many features to help your business. The program will cost $6 per user per month for the core program or $15 per user per month for the full business version.
Pros:
You can easily weed out duplicates in your contacts list
You can track information about the contact's spouse and family to make sure you never forget an anniversary or birthday
You can send emails from the program
You can track your interactions with your different clients
Assign tasks and to dos in one program
The program offers a lot of power for the price
Cons:
The program doesn't offer as many features as some other programs, but it can be great for the home office worker for this reason
There is no free version available, though there is a free 30-day trial
Karma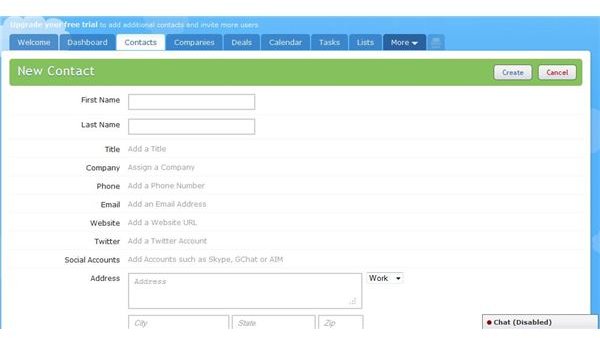 Is this the program you have brought onto yourself? Karma is another on-demand software program that is delivered to subscribers. This program tracks tasks associated with your clients - and you can view whether you have any open action items with your clients. You can track any deals and proposals that you have for clients, and you can follow through with each step of the lead-generation process.
There are seven different subscription levels for the program ranging from a free version that allows you to enter up to 300 contacts and track up to 10 deals to a solo option ($9 a month for up to 3000 contacts and 20 deals) to a professional version. This version offers you the chance to store up to 20,000 contacts and track an unlimited number of deals.
Pros:
The program allows you to really grow in your use of it with the growth of your business contacts
Track whether a lead is a hot or cold lead, enter in networking contacts easily
Track all the social media venues for your contacts in addition to traditional contact information
Create contact lists that you can import into newsletter programs such as Mailchimp.
Cons:
Like Big Contacts if you're looking for a more robust software program, you may want to look elsewhere, however, for most home and small businesses, you will find everything you need here
Catalyst CRM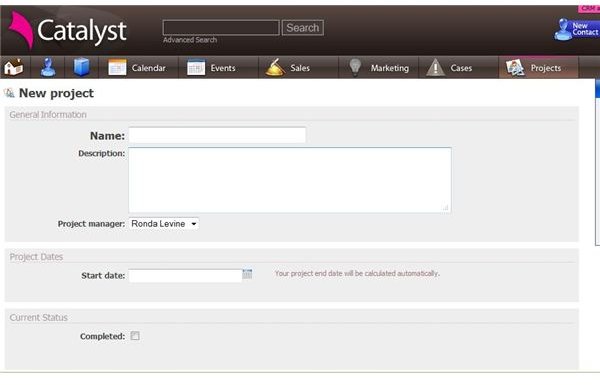 If you're looking to expand your business, and track some project management information while managing your contacts, you might want to look at Catalyst. This program is for small businesses that are in the midst of expanding. The program is perfect for the business that requires some basic project management skills. You simply track the project associated with the client, and delegate tasks either to yourself or to a co-worker.
The nice thing about this program is that it's delivered on demand. It's an especially good program to use for those who need to track client concerns. This allows you to deliver far better customer service. You can manage events and manage marketing campaigns.The program has a free trial, after which you will need to purchase a subscription plan. Subscription plans start at $42 for the solo plan and continue up to $265 per month for the enterprise plan.
Pros:
Track projects and client information in one place
Great for home office workers that need to troubleshoot and handle customer service problems
Very easy to use
Cons:
This program is very expensive. Yes, you can track everything in one place, but for $42 a month, you can only have one user, 1000 contacts, and 1GB of storage.
Client management software is important for the home office worker. Not only because it allows you one place to keep track of all your business leads, but also because it allows you to remember when you need to follow up with people. Don't forget about a client again, and easily keep all of your projects organized and attached to the clients they belong to. Don't be afraid to steer away from traditional CRM options. The new on-demand options are easy to use, and have many options that work very well for individuals working from home.
References:
Zoho CRM: https://www.zoho.com/crm/index1.html
Free CRM: https://www.freecrm.com/
Big Contacts: https://www.bigcontacts.com/
Karma: https://www.karmacrm.com/
Catalyst: https://www.projectartcrm.com/
All screenshots courtesy of Ronda Roberts Levine