Epson WorkForce 600 Review - All-in-One Printer with Scanner, Copier, and Fax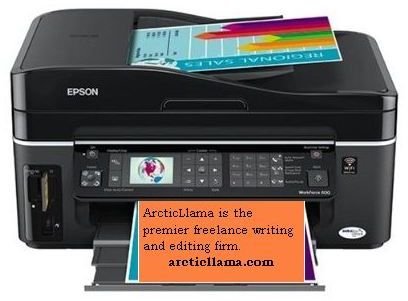 Epson WorkForce 600
I ended up taking a look at the Epson line after finding their photo printers very highly recommended by some photographers I respect. If you can make a printer that prints great photos, it should be easier to make a printer that prints great documents, right?
It turns out that one has nothing to do with the other, but the Epson WorkForce 600 is still a solid printer, fax, scanner, copier, all-in-one for the home office.
Print Specifications
The current "not quite a lie, but not really the truth, either" trend in printer specifications is to quote the printer's page per minute speed as "up to" the fastest possible output with the printer set to "draft mode." If you aren't familiar with draft mode, there is a reason for that. Chances are your printer has draft mode, you have just never used it. Why? Setting your printer to draft mode is like setting your TV to fuzzy black and white. You would never settle for the quality draft mode gives you, even for draft documents.
But, since everyone else is doing it, Epson does it too. The official specification is "up to 38 ppm." You will never see that number. In fact, one Epson fact sheet gives a slightly more honest number of "laser-quality color text" up to 19 ppm. Based on what I saw, 15 ppm looks like realistic number assuming you are printing mostly black and white with some color words or lines and some graphics. A full-page color image is a lot closer to 2 ppm.
One real nice feature of the Epson Workforce 600 is its "high-capacity" ink cartridges. They won't save you any money but you won't have to change them so often which is nice.
Other Specifications
The Epson Workforce 600 has a 30-page document feeder for scanning, copying, and faxing which is a nice touch. Many all-in-ones in this price range ($199 list on Epson website) have stingy 15-page feeders or even 10-page feeders.
The Workforce 600 also prints double sided prints and comes with ABBYY OCR software for attempting to convert scans into editable text. The scanner allows for up to 1200 x 2400 dpi scanning in color and black and white. It will scan to a computer over the network, or directly onto a USB drive or memory card.
The copier will copy off up to 99 pages without any computer involvement which is another nice feature.
The printer weighs about 22 pounds with ink and paper and is 18.5" x 13.5" x 9".
Networking
These days, most home offices support more than one computer. Whether it is your laptop, or a family member's computer, it is nice to not have to rely on another computer being on in order to print something over the network. The Epson Workforce 600 comes with built in Wi-Fi capabilities and supports both 802.11 b/g and 802.11n. It also can be used with a wired Ethernet connection. Either way, the Workforce 600 handles its own print server functions. No computer connection required.
Recommendation (3 out of 5)
Overall, the Epson Workforce 600 is a stable and reliable entry into this field. It doesn't bring anything to the table that demands your attention, but a good deal on this handy all-in-one would make it a useful and productive addition to any home office.