The Benefits of Creating an Online Portfolio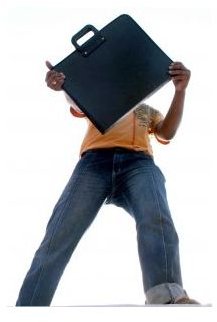 Why Create a Portfolio?
Why should you spend your time creating a portfolio? The reasons to create a portfolio are overwhelming. If you are an artist or web designer looking for the benefits of creating an online portfolio, you've come to the right place. Even writers and other work-from-home types can benefit greatly from creating an online porfolio. Here is a brief list of some of the ways you'll benefit by having a portfolio.
A Showcase of your Work
If you are actively seeking out employment, you'll need to show prospective employers who you are as an artist or designer. Having an online portfolio allows you to do just that. An employer can view a wide variety of your work, and determine whether you're the right candidate for the job.
Your showcase should be simple and to the point. Make your art the star of your online portfolio, and not hard to find. It should be your best work, so choose well. It is also quite helfpul if you keep your portfolio to one theme or style (or, create a separate page for each style), otherwise your prospective client might bcome confused about what it is that you do. You may be tempted to put into your portfolio all of the pieces you've ever created, but this will backfire, because a client probably won't look at the entire collection.
Image Credit: Courtesy of Sxc.hu/asifthebes
Present a Professional Look
Having a dedicated online portfolio communicates professionalism. Potential clients will believe that you're seasoned and serious. Even if you're just starting out, creating a portfolio will place you in the same league as the big time players. People who want to use your services will Google you, regardless, so you want to make sure that the results they find are professional. Remember that everything you put on the web stays there - long past the time you would think. Be sure your portfolio appears professional, and avoid complaining about former clients or instructors publicly.
Clients Will Get To Know You
With an online portfolio, a potential client or employer will see your art and will also find out more about you. It's highly recommended to have an "About Me" page on your portfolio, to give visitors a feel for who you are as an artist. If you are not a writer, you may want to team up with a skilled writer to carefully craft your "about me" page. Add a photo of yourself as well. People will feel more connected to you, and be more likely to establish a relationship with you. Additionally, it is helpful if you include a resume or client list with your online portfolio to demonstrate your experience.
You should also make your contact details easy to find. There's nothing more frustrating to a potential client than not knowing where to look for your email address or telephone number. Put this information on every page to avoid confusion or frustration.
Other Things To Consider
When you're creating a portfolio site, think of what you would like to see if you were the client. Attempt to see the site through their eyes. You want to be as accessible as possible. There's nothing professional about being mysterious or covert. Keep your portfolio simple. Your visitors will appreciate the straight-forward approach.