How to Use Windows Vista Mail's Junk Email Filter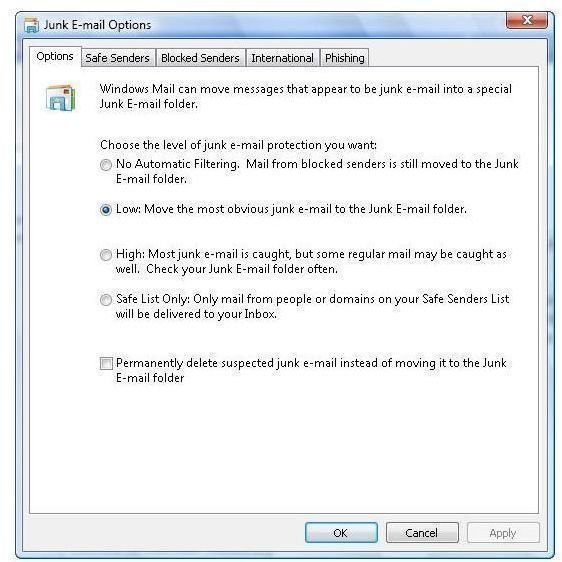 A Word to the Wise about Junk Mail
Before I tell you about Vista Mail's Junk E-Mail Filter, first and foremost, understand this: Never buy anything in a junk e-mail, never send money, don't order medication, and never give out bank account numbers, social security numbers, or any other personal information (even if you really believe the email is from your bank, the IRS, or anyone else you think you know). If you find that you receive spam and junk mail from the same address all the time, you may wish to report it. By the way, Bill Gates won't pay you for forwarding email and no, that poor Nigerian with all of that money he can't access is not an honest guy.
Whew. OK, now I can talk about Mail's Junk E-Mail Filter.
Filtering Options in Windows Mail
Windows Mail helps you avoid useless e‑mail messages by catching spam and moving it to the Junk e‑mail folder before you see it. There are four filtering options in Windows Mail:
* No Automatic Filtering. With this, Windows Mail will NOT block junk e‑mail messages.
* Low. Select this option if you receive very little junk e‑mail. You can always increase the filter if necessary.
* High. This is the way to go if you receive a lot of junk e‑mail and want to block as much of it as possible. Some legitimate email will likely be blocked, so you'll have to review Junk e‑mail folder sporadically to make sure email you want isn't going there.
* Safe List Only. If you're a hermit and only have five friends, and if you only want to receive messages from people or domain names on your Safe Senders list, choose this option. This is a radical step, and requires you add every sender you want to receive mail from to the Safe Senders list. Use this as a last resort.
Configuring Junk E-Mail Options in Windows Mail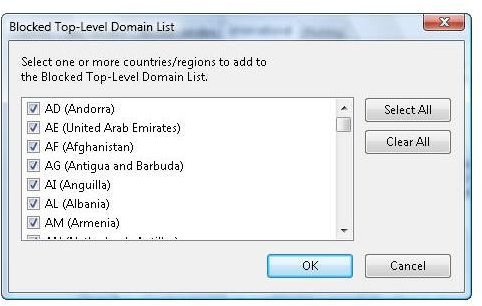 1. In Windows Vista Mail, click Tools and click Junk E-Mail Options.
2. Make a selection. We suggest starting at Low and moving to High if necessary later.
3. Click the International tab. Click Blocked Top-Level Domain List. Then, select the countries to block. Click OK.
4. Select blocked encodings list on the international tab and select any encodings you wish to block from the list. Click "OK"
5. Click on safe senders, and add any senders that will always be trusted to the list. You may check the option, "Automatically add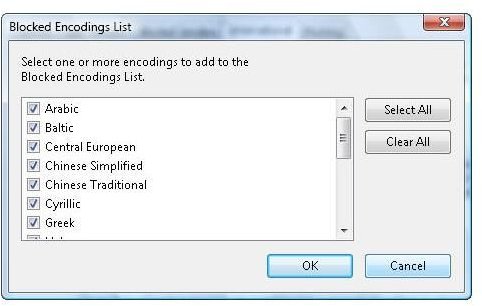 people I e-mail to the Safe Senders list if you wish, but this is not advisable.
6. Click on the Blocked Senders tab. If there are any email addresses that you know are junk e-mail related, add them to this list.
7. Click the Phishing tab.
8. Select Protect my Inbox from messages with potential Phishing links. Additionally, move phishing email to the Junk E-Mail folder.
9. Determine on the options tab whether or not you wish to permanently delete suspected junk e-mail instead of moving it to the Junk E-mail folder. Be careful though, this is not advised. Every once in a while, the mail filter will make a mistake and an important email will wind up being deleted. It's better to send the mails to the junk mail folder and glance over them first.
10. Click Apply then click OK.
Final Thoughts on Windows Mail and Junk E-Mail
If you use and configure your filter correctly, you will rarely find junk email in your Inbox, and you should rarely find important email in your junk folder. By taking the time to tweak the junk-email folder in Windows Mail, you can save time and increase your productivity when it comes to email.