Meeting Deadlines: 10 Tips & Skills for Better Deadline Management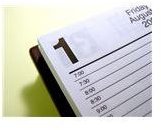 Behind the 8 Ball
Does it seem as though you're always behind the 8 ball? Do you spend more time catching up than actually doing current work or even relaxing? Sometimes it's easy to let time get away from you. The five minute check suddenly turns into twenty minutes; a research site suddenly takes you on a 'wiki walk' and before you know it, your day is shot and no work has been done.
Meeting project deadlines doesn't have to be hard, in fact it's quite easy, and here, we'll give you 10 tips on how to make sure that those deadlines don't jump up on you.
1. Care About Deadlines
For whatever reason, you have procrastinated until the final hours are ticking away before this thing is due.
The first step is to care about the deadline. Know about it and start to prepare to get started as soon as you can; make rewards and punishments when met or not.
2. Keep A Schedule
Keeping a schedule means knowing when it's time to work and when it's not. Often times, people will schedule something, but might forget or push it off for something, like fun times. It's a known fact that it can take up to three weeks for habits to sink in, so try to keep a schedule for that time and see how well you do. [Improving your time management](/tools/For whatever reason, you have procrastinated until the final hours are ticking away before this thing is due.) is the best way to get a project done on time.
3. Get A Calendar
As with the schedule, get a calendar to put it on. If you're a home worker, there are many advantages to having online calendars, such as Google and Outlook. These allow for alerts when something is to start, as well as enabling tasks so you can break down a project. Best of all, they allow for synchronization, so that you - or co-workers or family - can be aware of your schedule and thus plan things for when you are free.
4. Plan Your Work
Only you have an idea when you are productive. If you're a morning person, then you're likely to be more productive in the morning, same if you are a night owl. Make sure you add in distractions if possible; if you know you'll spend fifteen minutes checking email or Twitter, add that in to a schedule, so you aren't distracted as you work.
5. Don't Over Commit
Many of us may sometimes say yes and then realize we took on too much. With the above tips, this should help you look to see if you are able to take on another project; taking on too many can leave you stressed, exhausted, and missing deadlines.
6. Communicate
This is essential, whether you're talking to family, friends, or the client. Make sure that family and friends know that you are unavailable at certain times of the day; make sure that - if you know you will miss a deadline - the client is aware of it well before the deadline hits.
7. Limit Distractions
If your schedule says you will work from 8am until 11am, then that block hour can not be used to check Facebook, email, or answer calls. Limit these distractions to the best of your ability; if able, turn off your phone or cell (if your work does not require them); close your email program; there are programs that will even block social network sites or even the Internet so that you can concentrate on your work.
8. Break It Down
Often, the looming prospect of a project is what causes us to miss deadlines. A six hundred page report, with only two hours to go will cause stress, headaches, and probably more procrastination. Instead, when you first receive the report, break it down. Only write a few hundred words each day; before you know it, the project is done. This is one of the best tips for meeting work deadlines.
9. All Nighters
Famed as being a staple in college study halls, all nighters are when you don't stop to sleep. While effective for the moment, these should only be used in an emergency and not all the time.
10. Reward Yourself
If you made the deadline, with ample time to spare, reward yourself. That what makes meeting deadlines great, is the feeling of accomplishment, so play that game you bought or treat yourself to ice cream.
References
Freelance Folder, How to Meet Deadlines and Boost Performance, https://freelancefolder.com/how-to-meet-deadlines-and-boost-performance/
Freelance Switch, 14 Essential Tips for Meeting a Deadline, https://freelanceswitch.com/freelancing-essentials/14-essential-tips-for-meeting-a-deadline/
Image content @ Morgue File