Creative Ideas for Home Office Furniture: Creative Designer Pieces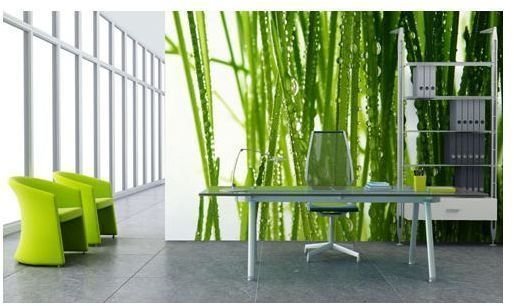 The Foundation Element: Your Desk
Creative ideas for home office furniture start with the foundational elements, namely your desk. Let's take a look at five different suggestions for desk furniture, all with distinct looks and feel.
The stunning desk and design plan (left) is for the minimalist in you. The glass top is juxtaposed against aged steel legs and frame. This spare style is great for someone who is more artistic, perhaps showcasing a home art gallery instead. But it's the fabulous photorealist backdrop of the green straws in rain from EazyWallz that really sets the tone—and the matching chairs in fluorescent green pull the whole "fresh" look together.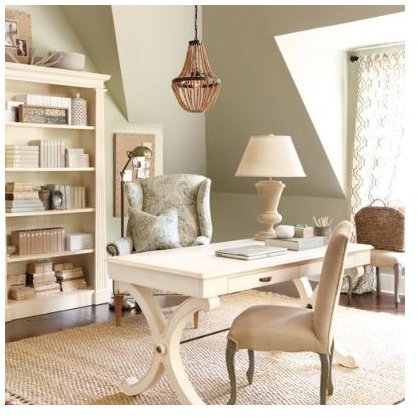 The Whitley desk from Ballard Designs is cottage chic. With curved and scrolled "x" legs and substantial top with two deep drawers—to conceal your laptop—this desk commands attention all within a small footprint. (See: photo at right.)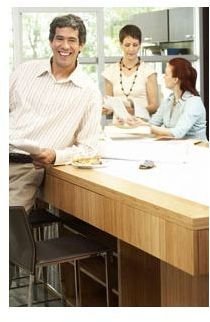 Sometimes your desk doesn't have to be a desk at all! (see left). If you work with blueprints, have the need to make sketches, and don't mind the idea of sitting on a stool, a huge butcher block-type desk for the creative part of you will suit the bill.
Have more style than space? If you have a home office in a compact space, the Sheldon Laptop Armoire may suit your requirements, because this complete workstation can be hidden behind closed doors. The double-hinged doors open for maximum entry, and the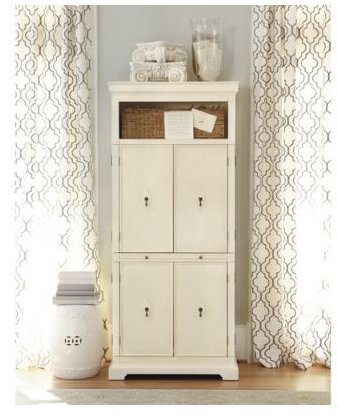 upper cabinet that houses a leather-lined pullout charging station. (See: bottom right)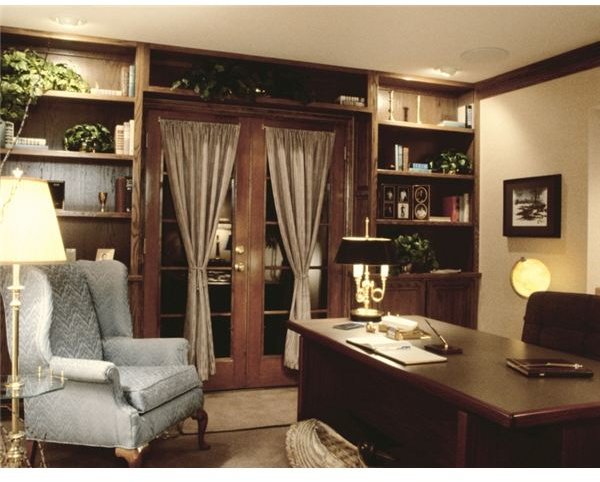 In this last photo of an office scene, the desk was actually a bargain "find" at an antique store. But what makes the whole picture so inviting are the other architectural elements that tie in, such as the dark wooden molding and bookcases. (See left, office scene)
Much Needed Storage Options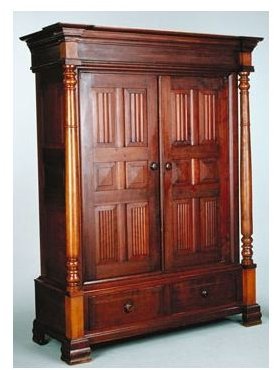 Storage solutions for a home office can come in many different forms, so don't limit yourself to traditional office furniture, but look to what you love. Antiques hunting is sometimes well worth it when you can snag something like the armoire (left). Some of the older vintage models, circa 1800s, were huge and the insides provide cavernous storage.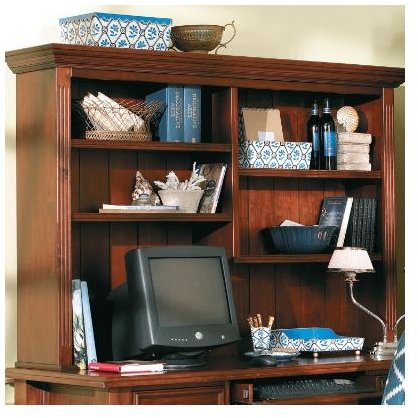 A hutch is a cabinet that sits atop another, making it versatile and able to be moved or even mounted. This method helps to build up storage vertically when square footage is at a premium. (See: below left)
File cabinets have been around since Charles Dickens first hit it big, and this classic Ballard design is a keeper. Opt for this designer version of the popular storage item made from pine and in three colors, creamy white, black and Tuscan brown? (See: bottom right)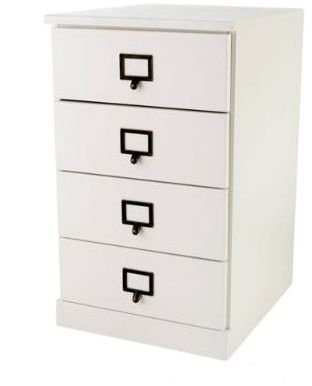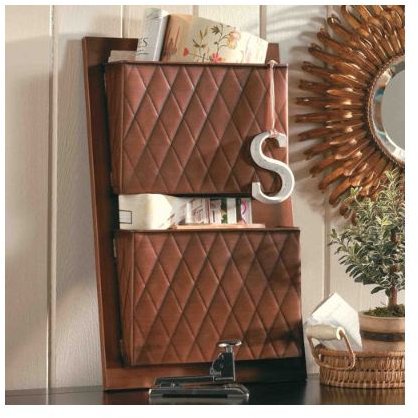 This 2-pocket Embossed Pocket can be hung or just leaned against the wall. It is made of durable embossed metal and is meant to look like copper. (See: bottom left)
Think about adding a really showstopping "cottage chic" piece like this one from Jewelweed Design Studio and Mercantile. It has a substantial heirloom quality.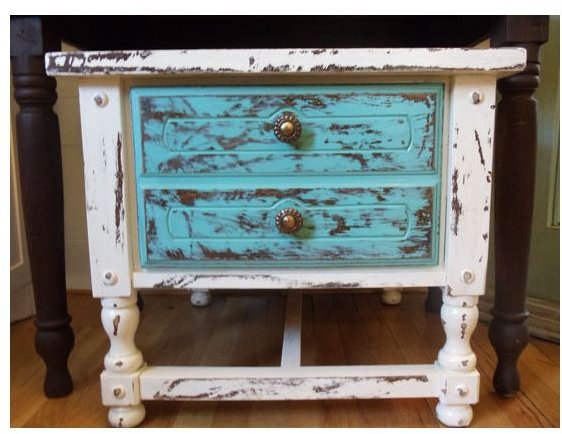 (See: white chest with turquoise drawer.)
Display Space Anyone?
Whether you want to show off your art, your published books or just share your clever self, the clever storage display options here are beautiful.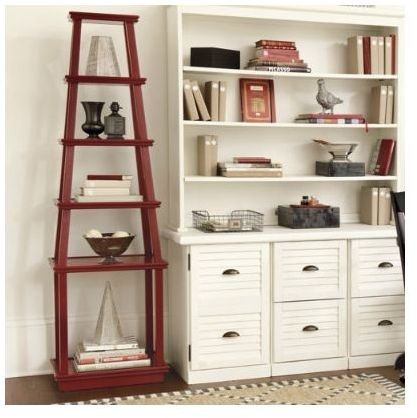 The Benton Étagère by Ballard Designs is a looker. A tall column of multi-tiered shelves it actually boasts open storage with an Eiffel tower shape and in pairs, it would add symmetry and sass. (See: far left)
What better way to use your space then to build it in? Niches and insets in walls such as this one pictured right, provide a cool sculptural look and display space.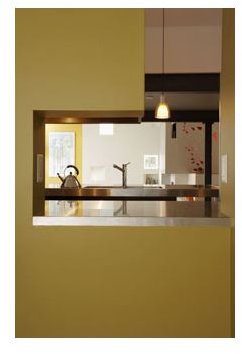 Do you love library bookshelves? This one, named Librarie, looks very much like an antique, but it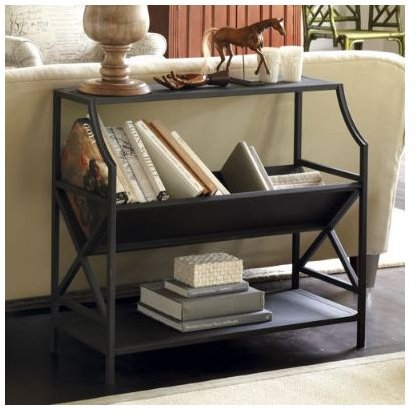 surprises by being made of metal, and holds books in a cradle so the spines are easy to read. We have one in our office from an antique store that is wood, and we love it. (Photo at right)
See page 2 for more creative ideas for home office furniture.
Display Space Anyone? (Continued)
Continuing in our quest for creative ideas for home office furniture, we found more special display options, to keep your home office organized: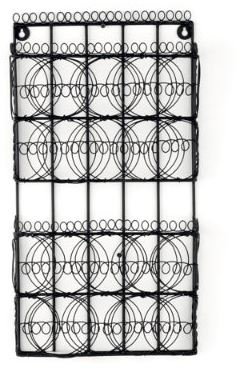 Keep your files handy with this unique Orleans Wire wall organizer. Loops of iron wire in a French fils de fer—twisted wire—pattern, hold a little or a lot of files on display. (See image: at left)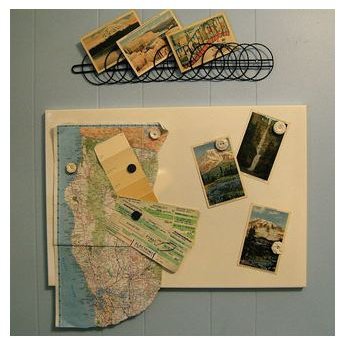 Low tech message boards will never go out of style and for good reason. Cork boards are easy to construct, just glue cork tiles into a picture frame, _OR, y_ou can craft another type by buying blackboard paint and apply it to smooth fiberboard and frame. No matter, all good for show. (See: bottom right)
Final Touches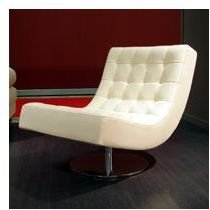 A chair for the client? We are bonkers for the rendezvous-style chair at left that gives a simple, cool clean line to any office and is surprisingly comfortable.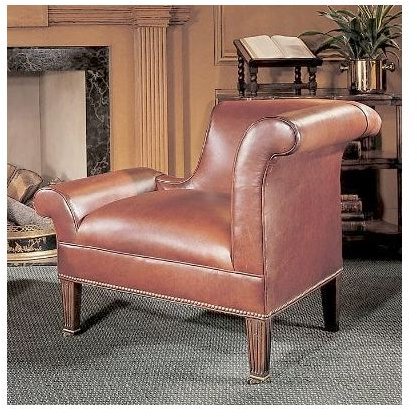 And the Century chair at right, called the Kilt RAF chair covered in leather, is a throwback to the stately English style circa 1940s.
By the light of the reading lamp? The Marrakesh Melon Pendant fixture from Ballard is a hand-blown glass goblet in a Mediterranean metal frame. (See: lower left)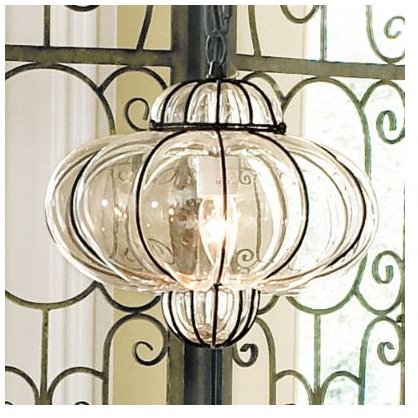 With these creative ideas for home office furniture in mind, we can't forget "time"—and you won't won't believe how beautiful this working clock table from the Linda Dano Collection at QVC really is.
If you have more splash than cash, think about adding one or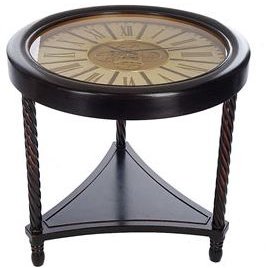 two dramatic touches. In these next photos, for example, the cowhide pillow can add pizzazz. One favorite higher-priced chair or distinctive article, can really turn on the style quotient for your home office.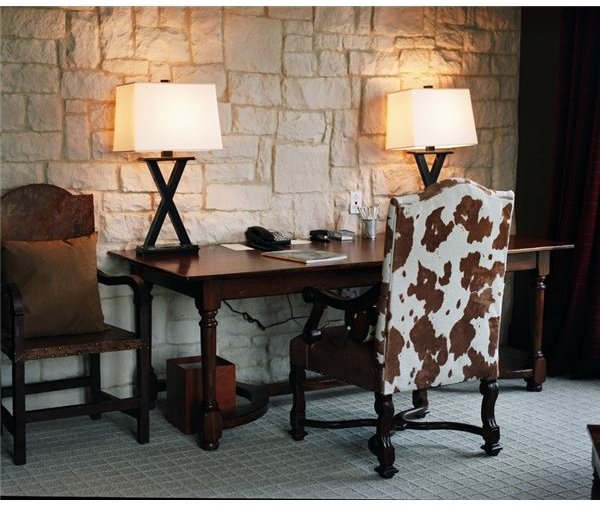 See how these elements pull together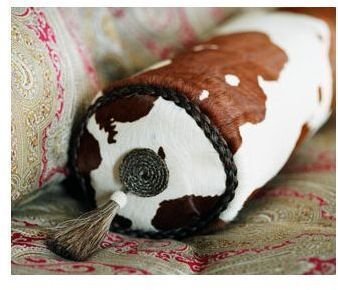 to show off this tiny office space with a big impact. (See: cowhide bolster and chair).
And finally, why not look to the floor, and FLOR, for your biggest home office backdrop?

These carpet tiles in Power Nap add a huge pop of color to keep you on your toes.
Don't limit your creative ideas for home office furniture by thinking you need to buy an all-matching suite of furniture. This combination of surprising, very creative and eclectic furnishings—in a bohemian style—may be your coolest choice for office style after all.
Reference & Resource
Eazywall photorealistic graphic picture used by permission of Geoffrey Poulad.
https://www.eazywallz.com/products/Fresh-green-straws.html
Ballard Designs, permission of Tyler Broome.
https://www.ballarddesigns.com/whitley-desk/194275
https://www.ballarddesigns.com/librarie-bookshelf/13655
https://www.ballarddesigns.com/sheldon-laptop-armoire/198042
https://www.ballarddesigns.com/2-pocket-embossed-organizer/43118
https://www.ballarddesigns.com/benton-large-etagere/163061
https://www.ballarddesigns.com/original-home-office-26-238482-5-cabinet-credenza/13482
https://www.ballarddesigns.com/home-office-ensemble-hutch/194920
https://www.ballarddesigns.com/marrakesh-melon-pendant/10751
Century Kilt RAF chair used with permission, Comer S. Wear.
https://www.centuryfurniture.com/Gallery/ShowItem.aspx?sku=LR-18069&Section=
FLOR Power Nap carpet tiles used with permission.
https://www.flor.com/power-nap-4-rug-set-warm-multi-8-2-x-9-10.html
Clock table from the Linda Dano Collection at QVC, used with permission.
Chest with turquoise drawer courtesy of Jewelweed Design Studio and Mercantile used with permission.
https://www.jewelweeddesignstudio.com/
Other photos: Butcher block, office scene, antique armoire, display niche, message board, Rendezvous chair are author's Clipart.com account