10 Tips to Organize Home Office Spaces Quickly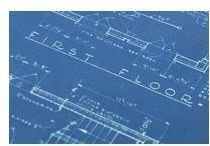 1. Task Areas
Home offices generally have a small footprint within the home. These constraints mean that tips to organize home office space must be creative, not to mention timely, because it's work time you're after, so you need those ideas f-a-s-t.
Designer Christopher Lowell suggests that clear-cut workstations often have to balance their interests with other shared common areas. For that reason, it is a good idea to look at what tasks you will be performing and plan before your makeover.
Oversized club chairs may have to be moved out to provide valuable space for your media/printing station (an area for phone, fax, printing, television, etc.). It is often easier to empty a room of all furnishings and clutter and begin at the beginning.
If your office space is not a separate room, it can be defined by a wall of books, an area rug, or a set of standing folding screens. Everything within those boundaries is office and not a dumping ground for chairs and tables that don't fit anywhere else. You may even want to paint the area a unifying green, gray or even a warm neutral to begin.
If you deal in art, add molding to the walls in order to create a kind of gallery setting or set the pieces in painted, molding frames. Use architectural details like niches, built-in bookcases, floating shelves to make use of all wall space effectively.
2. Declutter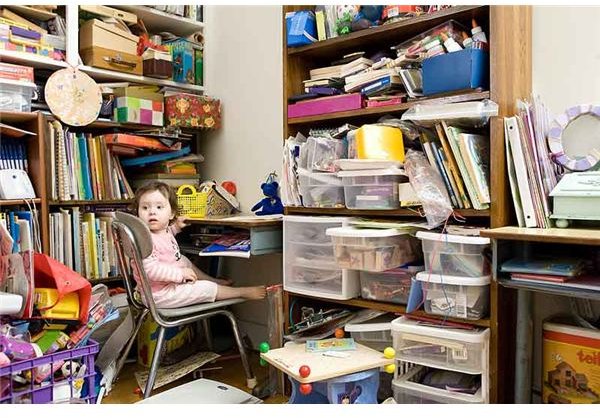 Clutter is the bane of production. Get three boxes, designate one a keeper box, one for tossing items and the last for donate. Deep six and file accordingly. If you can simplify your workspace, your mind will be more open to focus. Jeff Davidson, author of Simpler Living, says go by the 80/20 rule. Remember that 80% of sales usually comes from 20% of your customers, so prioritize accordingly. Remove everything from the surface of your desk except materials related to the task at hand.
3. Create Storage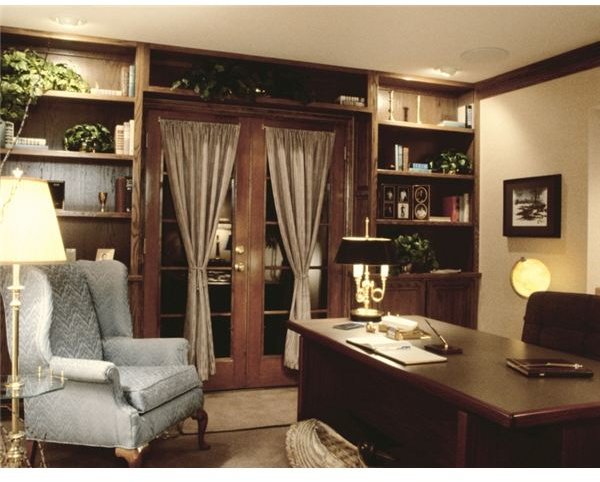 Once you've shucked the clutter of useless items, what you are going to do with the materials you've removed from your desk, the non-priority work? Well, stow it away, of course. That means you will create vehicles for storage. It is a personal matter as to whether you actually want to "see" your stored items or whether you want them hidden away with simply labels to remind you what's inside.
Shelves are wonderful for both open storage and for holding boxes, magazine folders, baskets, trays, and even jars and tins for an odd assortment of office supplies. A trip to the container store might inspire you but less expensive options abound at warehouse and discount retailers. If you buy your storage items at the same time, the value is in the "coordinating" aspect—the items can have a homogeneous look.
And never underestimate the utility of file folders, instead of moving things multiple times, label a file, add your mail or documents and store. It's the system for over a hundred years. If you want to do away with paper, invest in a heavy-duty scanner and store on a separate hard drive under the company's name.
4. Furniture Arrangement
It's good feng shui to have your chair, and thus your vision, facing the door. Having your back to the door creates strain on your neck when someone enters, and is not good for calming chi either.
Also, if you are assembling furniture, before you buy, have the room measurements handy to make sure that étagère is not too big for the wall. Remember too, that not all furniture has to hug the wall. Turn a desk 90-degrees to a window and you will eliminate glare on your computer screen directly and the bonus will be a view out of doors.
If you will be meeting clients, remember a chair opposite your own desk chair is best as you do not want to yell at someone sitting across the room—plus, it is easier to share sketches, etc. And while we're at it, if you only have one monitor, make sure it is able to swivel to allow your customer to view screen shots without having to look over your shoulder.
Continue on to the next page for more tips on how to organize your home office.
5. Lighting Reality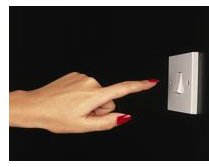 Your tips to organize home office space wouldn't be complete without a reality check. We are going to get older; eyes age. Contracts do have fine type. And adequate [lighting](# https://www.brighthub.com/office/home/articles/3473.aspx), well, just makes one more productive. Seek out a variety of options: hanging pendants over a display area, a pair of sconces flanking a console, down lights (also called "pot lights") in the ceiling, track lighting to highlight certain objects, under cabinet lights, lamp lights, and even rope lighting can all serve office space as perfect soldiers. Plan accordingly. Think about LED lighting as well because it projects some of the best light for reading.
6. Media Tangle
Maxwell Gillingham-Ryan, one of the founders of Apartment Therapy online, uses a term to refer to handling all of the technology cords and plug-ins associated with media: techorating. He says a typical home can have anywhere from two to three cell phones and possibly a PDA or two. Instead of a tangled mess hanging from your outlets, you can eliminate all the clutter by using the Duracell myGrid. The myGrid allows you to easily charge up to four devices at the same time. Just attach a power sleeve or power clip to each device and drop it on the pad to charge—it's that easy to have all your mobile devices organized in one place.
7. Communal Space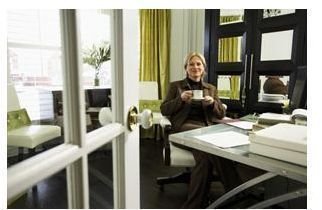 We talked about having a client seat opposite your desk but also, space allowing, think about having a separate upholstered office chair and accompanying sidetable for customers to read at or relax while they are waiting.
8. Zounds, Sounds!
It is a good idea to think about soundproofing your office, especially if you are competing for sounds within earshot of children playing in another room. Fabric-covered sound-absorbing panels are an option and fairly easy to install with either a clip system or mastic, and even look into acoustic curtains. (See resource below).
9. Accessories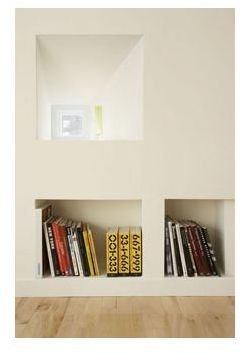 Keep decorative accessories to a minimum or look at objects that serve a dual purpose, for example, a decorative bowl can hold keys, pencils, and other assorted little office paraphernalia.
10. Corners & Moving Up
Seek out shelves that make use of corner space or outfit with floating shelves to fill in a corner. Other tips to organize home office are gained by looking up. A long box fitted over a window can be filled with lesser-needed items or baskets. A full shelf applied around the perimeter of the room near the ceiling—say, about 18-inches below the ceiling—offers a tremendous amount of storage and all because you took the time to install up high.
References & Resources
Lowell, Christopher. Seven Layers of Organization. Clarkson Potter, 2005.
Davidson, Jeff. Simpler Living. Skyhorse Publishing, 2010.
Campbell, Andrea. "Maxwell Gillingham-Ryan talks about techorating and how to tame your electronics" Examiner.com https://exm.nr/eEkX9o
Acoustical surfaces source: https://www.acousticalsurfaces.com/fabric_panel/fpswallp.htm
All photos Clipart.com