Find an Outstanding Professional Development Log Template Here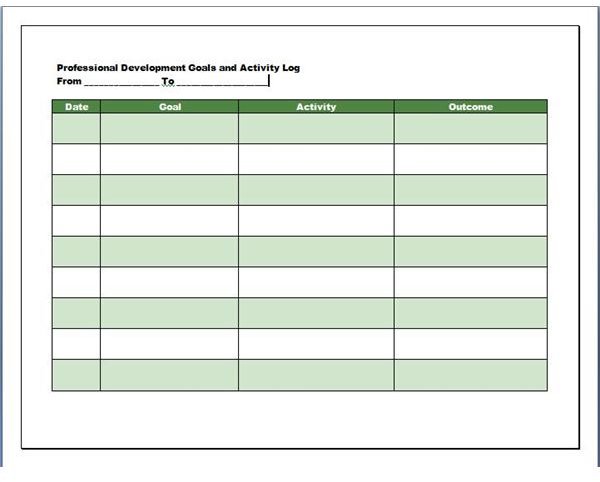 Why Keep a Professional Development Log?
Whenever you have a set of goals, it is important to keep track of those goals. Additionally, you will want to keep track of any activities you have done that have helped you to accomplish those goals. This is especially important in the case of professional development, and it is even more important if you work from home. By keeping track of your professional development activities, the outcome of these activities, and the professional development goals you met, should you ever need to demonstrate your skills or expertise to someone, you will know exactly how it was you achieved those skills or that expertise.
I have provided you with a free professional development log template for your use in our Media Gallery. Feel free to download this professional development log template for your personal use and modify it as you see fit.
Setting Deadlines for Professional Development Activities
You will notice on the template that there is a space for the date. When filling out the template, you have a few choices. You can write down the date the activity occurred, you can write down the goal date for that activity to be completed, or you can split the column in two and track the goal completion date and the actual completion date. It is vital when setting goals, especially when setting professional development goals that you have a particular timeline in mind that you are hoping to work with. Every goal you come up with should have a specific timeline.
Noting Goals for Professional Development
On your professional development log, you will want to write down the goals you have set out for yourself. Every activity that goes on your log should link to a specific goal. In fact, you shouldn't consider undertaking any professional development activity that does not directly link to a professional development goal that you have. Activities that do not link to specific goals are a colossal waste of time. Because of this, the first thing you write down on your professional development log will be the goals you have in mind when undertaking activities.
Recording Professional Development Activities
Once you have the goals you wish to accomplish written down, then you can record the activities that have met those goals. Rather than simply writing something like "Went to seminar," describe the seminar. What was discussed? Who was speaking? Did you make any connections? By recording details of each activity you have participated in, you can quickly look over your log and know what it was that you did. If you have not yet attended or partaken in an activity, you will want to write down the name of the activity and what you hope to gain from it in this field.
Recording Outcomes and Reflecting Upon Professional Development Activities
Finally, once you have completed an activity, be sure to record the outcomes from each activity. If you made a particular acquaintance with someone, record that person's name. If the activity was particularly successful, be sure to write why it was successful; be as specific as possible. If the activity was an epic failure, be sure to record that as well. By reflecting on activities rather than simply participating in activities to participate in them, you will add to the experience of your own professional development activities.
By keeping a professional development log, you will make it easier come review time, or when dealing with a prospective client, to demonstrate the activities you have undertaken while working at home - as those you work with will not always see what you have been doing and this can help clients learn more about your profession.
References
https://www.nsba.org/sbot/toolkit/ProfDev.html
Screenshot courtesy of Ronda Roberts Levine