Most Popular Personal Productivity Software for Small Business Owners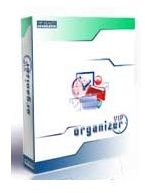 Your personal and professional life can get pretty hectic. Software programs can help you keep organized so you can keep your mind on other more important things. The software listed here is either Mac or PC compatible and free trials are available on all of them.
VIP Organizer
Create daily, weekly or monthly lists. Then prioritize them in the order that you want them completed. Estimate the time you need to complete its task, and then set a due date. This software offers more than bare-boned To Do features.
For instance, you can export your tasks lists in a variety of formats so that they are not trapped on your computer. You can also set up a tree-structured category system for better organization of your tasks. The advanced reminder system will ensure that you never forget an appointment or a due date. Download a free trial and play around with the software or pay $49.95 for the license. This software is PC compatible.
DeskLook 3.5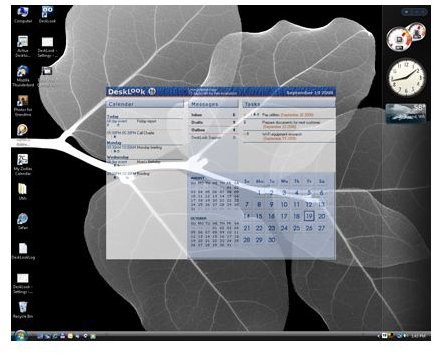 DeskLook for Outlook is a desktop client that allows you read your appointments and tasks that you created in Outlook. Select how many days in the future that you want to have displayed, choose whether you want personal or work tasks displayed and choose which folders you want to display in the Messages section. Double-click on an appointment to get it to open in Outlook.
Customize your DeskLook appearance to either match or compliment your desktop's theme. A version for Lotus Notes is also available. You can give DeskLook a trial run by downloading the free trial or pay $24.90 for a licensed copy. This software is PC compatible.
Post-It Digital Notes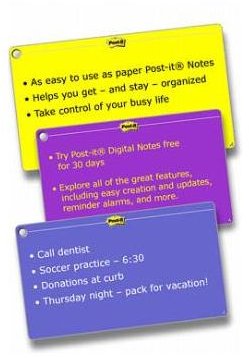 Never forget an appointment or a task with Post-It Digital Notes. Instead of having a gazillion Post-It notes cluttering your desk, put them on your computer with this software. You can create hot keys for creating, hiding or finding notes. Set up your own note fonts and colors. Set up sounds to play for alarms, creating notes, deleting notes, etc. This software is PC compatible.
Things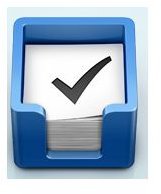 Things is an easy to use task manager that will keep you organized. Set up hierarchical tags, schedule recurring tasks and manage projects with Things. If you are not able to categories your tasks, put them in the Inbox to sort later. Also put tasks that you plan to do sometime in the future in a the Someday box. Download a free trial of Things, or pay $49.95 for the license. Things is also available for the iPhone and the iPad.
OmniFocus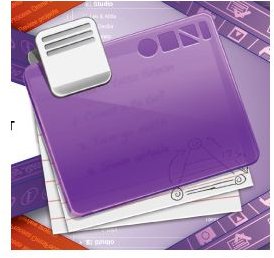 Store all of your miscellaneous to-dos in your inbox until you are ready to process them into your categories. Set up tasks by categories and set recurrence schedules. Make sure that all of your Macs, your iPhone, iPad and your iPod Touch are in sync with each other so that you can pick up a gadget and not have to worry about completing a task twice, or missing one altogether.
The context feature in OmniFocus allows you to categorize your work by context. If you know that you need to make phone calls, click on the Phone context to see the list of everyone you need to call and when. You can also keep your personal and professional tasks listed together so that you do not have to worry about having two task managers.
You can download a free trial of OmniFocus before you buy it. The software costs $79.95 and is Mac compatible.
These personal productivity resources will help you stay organized and work efficiently. If you have any experience with the products listed above, please feel free to share this experience in the comments section.
Resources
VIP Quality Software, VIP Organizer, https://www.vip-qualitysoft.com/products/organizer/popular_personal_productivity_software.html
DeskLook 3.5, https://www.desklook.com/?utm_source=home&utm_medium=banner&utm_campaign=xemico
Post-it Products, Post-it Digital Notes, https://www.post-it.com/wps/portal/3M/en_US/Post_It/Global/Home/Products/Digital_Products/
CulturedCode.com, Things Mac, https://culturedcode.com/things/
The Omni Group, OmniFocus for Mac, https://www.omnigroup.com/products/omnifocus/