A Review of TurboTax Deluxe for Mac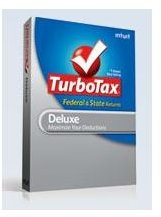 Many people rave about TurboTax Deluxe tax preparation software and claim they wouldn't use anything else to file their income taxes (this is especially true for Mac users). All the good things that are written about TurboTax Deluxe make it sound almost too good to be true. Could TurboTax really be as easy as some people say it is? I was curious to find out if it could live up to the hype. Here is what I found:
The Deluxe version is much more thorough than the free TurboTax program, which is only for very simple returns. You have to commend Inuit, Inc. (the company that makes TurboTax) for offering a free version. There's something to be said for companies who are willing to give things away to get you interested in their product line.
The TurboTax Deluxe user interface is relatively straightforward. If you are comfortable doing basic things on a Mac, you should find it easy to get started. On the other hand, if you are unsure of your way around a Mac, you may need a little help getting started with this software.
Intuit offers thorough details on what each version of TurboTax offers. After looking at the feature lists and offerings in each version of the program, TurboTax Deluxe made sense for my purposes because in the last tax year I have bought properties, sold properties, changed jobs, and moved. If TurboTax can keep up with me while offering a super easy return process, then bring it on.
Price to Value (4 out of 5)
Consider whether using TurboTax Deluxe for Mac is easier than going to a tax store or other professional.
Take your time and look at all the options featured that were not available last year.
Live help and over 50 files and returns available at the click of the button. Some are free, some for additional fees.
Covers over 300 deductions and credits.
For around $60, TurboTax Deluxe packs a lot of punch.
Security & Privacy (4 out of 5)
TurboTax Deluxe for Mac lets you file online (otherwise known as e-file) for a minimal fee.
Whenever you use the online version of any program, privacy is at risk from hackers.
Intuit has removed all "quirks" (as its software developers called them) since the application first came out.
Installation and Setup (4 out of 5)
What's Hot:
Easy install if a bit long, but no complaints.
On launch, TurboTax Deluxe downloaded all new patches and latest updates. (Someone at Intuit is on top of things.)
What's new in your financial world?
Standard deductions; Itemized Deductions.
Dual Status Alien return.
More forms than you need, which is always a big plus if you want to be creative with your donations, mutual funds, investments, or 401(k) plans.
What's Not:
The look on your face when you realize you need to add over 50 IRS tax documents, six new patches, over 25,000 files, and a partridge in a pear tree. All this and you haven't even opened the application. But this is just part of the beast that we call tax preparation.
User Interface (4 out of 5)
What's Hot:
TurboTax Deluxe for Mac doesn't have a lot of tabs, icons, or cute pictures to get in the way of the serious business ahead.
The navigation bar was clean and easy to follow, even though my taxes weren't.
Lots of payment choices: pay later, direct deposit, and check your E-file.
Offering tax help if you run into a complicated situation that you don't understand.
What's Not:
On the same token, some people might not like finding a link to tax help on the side tab everytime you change pages. (Makes you wonder why you need help if this is going to be easy.)
Nothing worse than too many choices, especially when doing your taxes.
Help and Support (4 out of 5)
The TurboTax help and support section is easy to follow. Information is clear and concise, including step-by-step videos.
The format is quick to help you find what you need without too much hair pulling.
The Professional advice given in the Community section is a huge plus. (Consultants in the field.)
Q&A section is available throughout the process. However, the application help is better than the online service.
Ask a Tax Expert Service: you can call a credentialed tax expert (CPA, Enrolled Agent, Tax Attorney) if you need help.
Images
Users of TurboTax Deluxe for Mac rate it higher than the competition on such factors as its ability to itemize deductions, and I concur. TurboTax also rates well for users who have stock sales to report. However, for users with simple returns, the free version of TurboTax will suffice. Jennifer Wingard offers some additional insights on TurboTax in her article TurboTax Software Review. I would recommend TurboTax Deluxe if you have a Mac for complex tax returns, with one caveat: when you are ready to upload your files online, use Firefox as your browser; for some reason Safari crashes every two minutes.
Need a little more help troubleshooting TurboTax? Try reading Troubleshooting TurboTax written by Misty Faucheux.
References
Screenshots by autor from TurboTax
Source: author product review