Review of Mint.com - Free Online Finance Tracking
What Is It?
Mint.com is a website offering free money management by linking all of you accounts together and analyzing your spending and saving habits. If you enter enough information about your accounts–some features are not available to people like myself who do not have retirement savings or credit cards–they will be able to send you offers to help you save money.
For anyone who needs help tracking their finances but does not want to go through having to buy a program and learn how to use the program, Mint.com is a something that will work great from you. The photo on the left shows you the homepage.
The sign up process–shown at the right–is very simple, and is as easy as following on screen instructions. Enter your name, email address, zip code, create a password, read, then agree to the terms and conditions, and you now have an account with Mint.com. Once you click continue, the next screen will allow you to do a one-time account setup, which means all you have to do is enter your information one time and your accounts will update on their own. Consider adding all of your financial accounts–checking, savings, credit, and investments for the best experience. The more information Mint.com has about your finances, the better it can track your habits and provide you with offers to help you. Follow the on screen instructions to add your accounts, choosing your account types from the top of the window, entering your account login information and allowing the website to validate it.
Features
Here are just a few of the wonderful features that Mint.com has to offer you.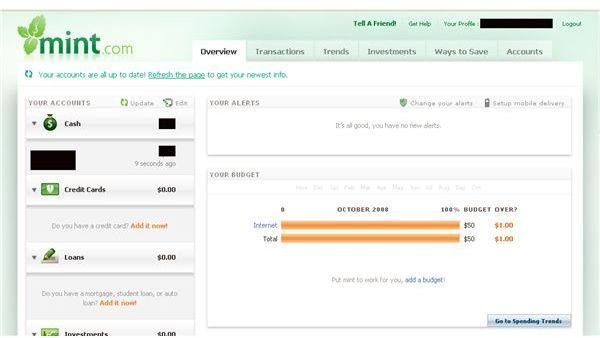 Tracking of all income and spending through the accounts you link to Mint.
Graphical analysis of your spending and saving habits.
All your accounts stay up to date because information is downloaded each night and loaded into the system with the information you provided at sign-up. Your accounts will refresh each time you login and the transfer of information will only take a few seconds.
During the sign up process, you'll be able to see a progress meter and find answers to common questions to make the process even easier.
Add a budget so you can track how well you are doing.
See offers that Mint.com thinks will help you based on your information.
Merchants and spending categories have been removed from the image at the right to protect the account owner, but the image will show you the graph view.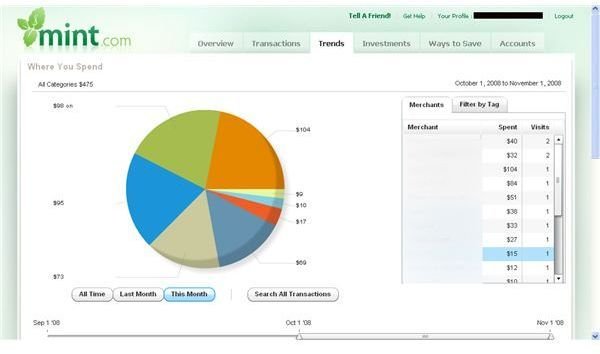 Why Use It?
Use it to save yourself time and money–you'll never find a program like ths for free anywhere else.
Because the information is secure online, you won't panic if your computer crashes.
Because there are no discs to keep up with, you won't have to worry over losing or damaging any software.
Since it's all through your browser, you don't have to download anything.