Retail Accounting: Library of Helpful Resources, Tips and Techniques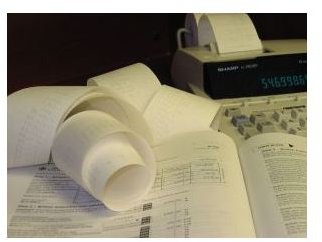 Whether you hire an accountant or CPA firm to handle the accounting for your business or you handle it yourself, you need to have an understanding of general accounting principles, methods and formulas. After all, if you don't understand the process yourself, how can you be sure that your accountant is following the proper procedures?
We've created a collection of expertly written articles to help you increase your knowledge about this important business topic. You will find out why you need to budget and what the best inventory tracking and reporting methods are. By the time you finish this guide, you will know the difference between a balance sheet, a trial balance, and a general ledger, and you will have a chance to take a short quiz to test your knowledge.
You probably know that you need to keep your business records separate from your personal records, but here you will discover why this is so crucial and what your liability or risk might be if you don't do this correctly. We'll cover important topics like sales, inventories, cash flow, cost of goods sold and much, much more.
Comparing Periodic and Perpetual Inventory Systems
Even though the perpetual inventory system is the method most commonly used today, there are some real advantages to the periodic system. Here we compare and contrast the advantages and disadvantages of each. We'll give you some real-life examples as well so you will have all the information you need to decide which business inventory valuation method is best for your business.
Calculating the Cost of Goods Sold (COGS) Formula
Are you operating your business within the optimal gross profit margin? If you don't understand how to perform the cost of goods sold (COGS) formula properly, you may be leaving money on the table and short-changing your bottom line. Learn how to do the calculations and learn what factors affect it.
Calculating FIFO Inventory Costs
Here you will learn what the first-in, first-out (FIFO) inventory valuation method is and how you can use it to calculate inventory costs for your business. Whether you use the perpetual inventory or periodic inventory method, we will walk you through the calculations you need to know to use this formula. Be sure to check out the GPK Marginal costing structure flow chart for a snapshot of the overall process.
Managerial Accounting Concerns for Loss Leaders in Product Pricing
If you utilize loss leader pricing in your business as a marketing strategy, here's some important information you need to know. Learn how to determine the legality of using this type of promotion in the state where you operate your business. Discover how to weigh the long-term profitability against the short-term loss and when you should not use this type of marketing strategy.
A Guide to Job Costing Journal Entries
Do you sell more than one product or service? If so, you need to know how to do job costing journal entries so you can track debits and credits for each specific service or goods. Business owner Jean Scheid walks you through the process with real-world examples.
Explaining Lower of Cost or Market (LCM) With Examples
Here we explain the lower of cost or market (LCM) method of valuing and reporting inventory. By the time you finish reading this comprehensive guide, you will know how to perform the calculations and make the appropriate journal entries. If you aren't currently using this system, you will find enough information here to help you decide if it is a method you would like to adopt for your business.
How Well Do You Understand Accounting Journals? Test Your Knowledge Here
Just for fun, why not do a self-assessment and see how much you really know about accounting journals? After all, if you debit when you should credit or vice versa, you may end up with a mess you cannot untangle! This is an easy quiz, with just 15 questions, but beware…we won't promise that we didn't throw in a trick question or two just to give you a mental challenge.
Using Accounting Ratios to Measure Your Company's Financial Health
Is your business healthy or on life support? If you don't have some way to evaluate your financial health, you could be headed for a terminal event and not even know it. Here are the basic accounting ratios and formulas you need the most.
Breaking Down the Gross Profit Margin Calculation
Maintaining a healthy gross profit margin is critical to your company's financial health and success. If you don't know how to calculate your gross profit margin, you need to stop immediately and read this article to find out how to do it. We will guide you through the process in a systematic method that will have you performing this operation like a pro.
Learn How to Calculate Ending Finished Goods Inventory
Learn the definition of "finished goods" and why knowing how to use the formula to calculate your finished goods inventory is so important. Here you will find a plain English breakdown of the formula and the calculation. A real-world scenario is included that helps you visual the process.
Reference Guide: Everything You Need to Know About the Trial Balance
Here's a topic-specific library of 15 articles about trial balances written by Bright Hub's accounting experts. Be sure to bookmark this page so you can refer to it quickly whenever you have questions about preparing or balancing your general ledger or making journal entries. We've included a handy template for a trial balance as well as lots of other tips, tricks and techniques you need to know.
One-Stop Guide to Financial Forecasting Including Free Templates
This 16-article collection walks you through what you need to know about business and personal financial forecasting. You will find lots of valuable information provided by our accounting experts. A real nice bonus with this collection is the free worksheets for a 12-month sales forecast, cash flow budget worksheet, and personal financial statement.
Deciphering the Meaning of a Financial Statement
A financial statement contains a wealth of valuable information to help you analyze your business, but if you do not know how to read one, its value is meaningless. Here you will learn how to breakdown a common size financial statement (FS) and decipher it. You will find out how to analyze your business trends and growth in both earnings and the overall business.
All About the Balance Sheet: A Business Owner's Survival Guide
While this guide may not include "everything you would ever want to know" about a balance sheet, it does contain a wealth of information. Here are 40 articles written by Bright Hub's accounting experts that will guide you through learning about balance sheets and how to use them to your advantage in your retail accounting. As a plus, we've included some free templates that you can add to your resources toolkit.
Comparing Inventory Costing Methods: FIFO, LIFO and Average Cost
Do you really understand the differences between the various inventory costing methods? Do you have all the information you need to make the best decisions for your business needs? Here is an excellent explanation of the pros and cons of some common methods that are used to do inventory costing calculations.
Tell Us What You Are Thinking!
We hope you found this guide to retail accounting helpful and that it contained answers for most of your questions or concerns. If you need some specific advice that you did not find here, please use the comment section to let us know. In addition, we would love to have your general feedback on this guide as well as your suggestions for how we can improve it.
References