Find General Ledger Accounting Software That Will Make Your Job Much Easier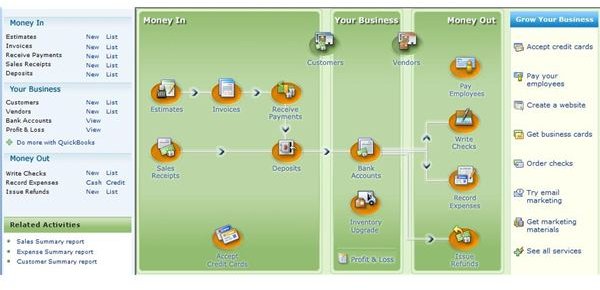 What to Look For in Your Software Search
With increased reliance on electronic record keeping and commitment to maintaining paperless offices, it is becoming increasingly important to find general ledger accounting software that aptly meets your needs. The first thing you will need to do in determining which program will be best for your needs is perform an inventory of the features you need. Here are some questions to get you thinking about your software needs:
Will you be accessing your electronic ledger on only one computer, or will you need to be able to access it from multiple computers?
Will multiple people be using the program, one person, or just yourself and a client?
Will you need to track multiple clients or one client?
What is your budget right now for obtaining such software?
Do you want to be able to access the software on mobile devices?
Is an easy-to-use interface important?
Do you need to track multiple currencies?
Once you have taken a few minutes to come up with a preliminary list of things you require from your software, you'll want to evaluate the general ledger applications that best meet your requirements.
QuickBooks
QuickBooks is a long-standing staple in the accounting software field. This program allows users to track everything in a general ledger. While the image at the right is of the Simple Start version of this program, the program can be custom-tailored to your needs. If you have a non-profit, professional services, or retail business, you can track everything in one place. If you're looking for a software solution that will allow you to work with an accountant, or if you are an accountant who works with multiple clients, this program is an outstanding solution. The program starts at $399 for a desktop version that allows you to perform all of the accounting functions (not just keep track of your company's general ledger).
Pros:
Keep all of your accounting functions in one place since this program tracks more than just your general ledger
The program can be as simple or complex as you need it to be.
The accountant version has many great features that will make an accountant's life much easier.
If your CPA uses Quickbooks, financial reports can be easily transmitted electronically.
Cons:
Because it is a program that has many features, for new users, it requires a learning curve.
The program may have more features than you need.
The more complex the program becomes (or the more features you add), the more expensive it becomes.
Sage Peachtree Accounting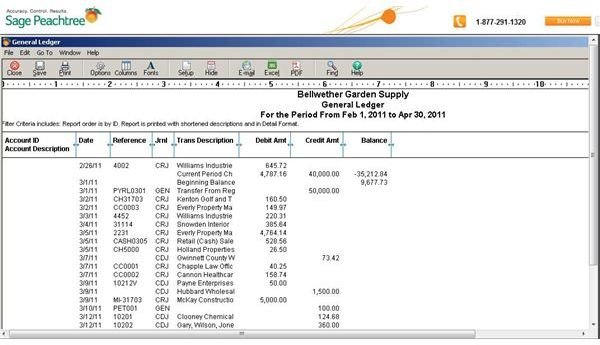 An industry staple, Sage Peachtree Accounting has been the program of choice for many enterprises for years. This program has two tools: the general journal and the general ledger report. You can view the exact standing of the company, without having to use multiple books to do so. No longer will you need multiple ledgers. Instead, Peachtree Accounting collects all of your information in one place. Peachtree Pro starts at $199 and the Platinum version of the software starts at $499.
Pros:
Peachtree Accounting has you covered. Not only will you work with the general ledger, but all your information will be kept in one place.
Those using this program will find that many others use the program, and they will have a much easier time interfacing with already-existing systems.
Multiple users can access the program.
The program is fairly easy to use.
Cons:
The program, like QuickBooks, can be quite expensive depending upon your accounting needs.
The program may overwhelm users who simply want a ledger format.
Zoho Books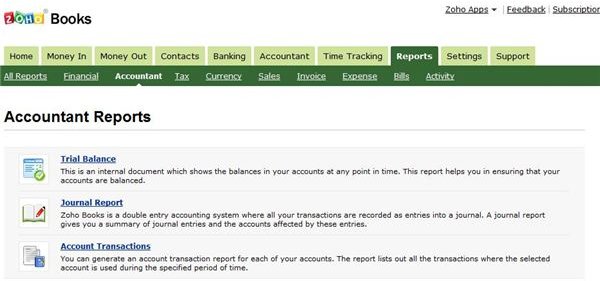 If you're looking for a program that integrates with a full software suite of applications, you may wish to look at Zoho Books. The program is available as a subscription delivered over the Internet starting at $24 a month. It uses the double-entry method of accounting. To view the general ledger in this program, you will want to go to the reports section, and then click on "Journal Report." Like both Peachtree and QuickBooks, Zoho is an all-in-one suite that keeps your invoices, bank balances, and depreciation reports in one place.
Pros:
This program is really easy to navigate and use.
The program automatically generates the ledger from your entries in other sections.
The program prompts you for all income and expenses you might need to track.
Access accounting information from any computer.
User support helps you migrate your information from other software to Zoho.
Cons:
The subscription fee does add up over the course of a year. If you need to add additional users, the subscription price increases $5 a month per user.
Medlin General Ledger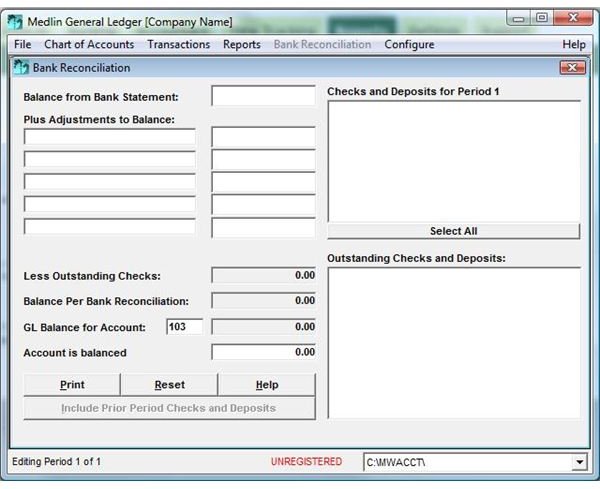 If you're the kind of person who likes a program that just allows you to get things done and you don't care too much about aesthetics when it comes to computer software, you may want to check out Medlin General Ledger. With this program, you can reconcile accounts, track expenses, and yes, create the much-needed general ledger report. There is a trial version of the program that is free for you to evaluate for thirty days. After this, the program costs $45 a year.
Pros:
The program is focused on basic accounting functions.
The program is easy to use.
The program is much more cost-effective than the other three programs in this article.
Should you need additional accounting functions, you can purchase other modules.
Cons:
Should you start adding the modules together, the program can become more expensive than the basic edition of QuickBooks.
The program doesn't interface with other popular software programs.
The program only works on one computer and accounting information is not accessible online.
Wave Accounting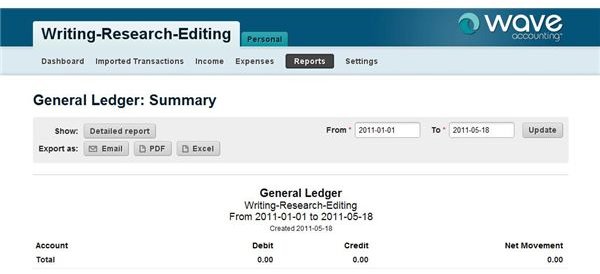 This final general ledger accounting software option is provided on-demand and is free. It's actually really difficult to believe this program is free, because not only does it look great, but it's super-easy to use. In addition to providing a report in the format of the general ledger, you can also create invoices using your logo, track income and expenses, and import data from both FreshBooks and Google Apps. Finally, you can connect directly to your bank and other financial institutions associated with your business.
Pros:
Free! (Need I say more?) This program is a great option for the freelancer or startup business that needs accounting software.
Easy to use.
Customizable.
If you have Google Chrome, it integrates with your browser so that it's easily accessible at any time.
Looks incredibly professional.
Archive older transactions that have already been reconciled.
Cons:
Lacks some of the advanced capabilities of more robust software, but again, it's a very nice program.
When looking for software that will meet your needs, it's important to keep those needs in mind. Software is like clothing - you have to find the right fit. While they all do essentially the same thing, the wrong fit can lead to frustration while the right fit can make you work faster and more efficiently.
References:
Medlin General Ledger https://www.medlin.com/mwgl.htm
QuickBooks https://quickbooks.intuit.com
Sage Peach Tree Accounting https://www.peachtree.com/
Wave Accounting https://waveaccounting.com/
Zoho Books https://books.zoho.com
All screenshots by Ronda Roberts Levine