Free Samples of Accounting Schedules & How to Use Them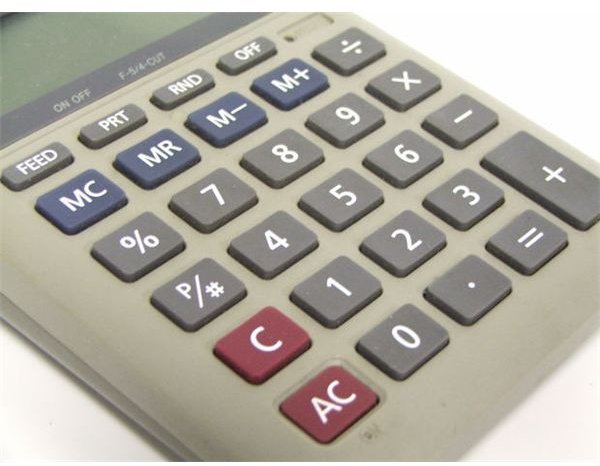 Explaining the Accounting Schedule
Companies that use software applications such as Quickbooks or Quicken often produce a realm of reports at month and year end. These can include balance sheets, income statements, trial balances and yes, those all-important schedules.
While many bookkeepers may think the only important schedule is the aging account receivable or payable schedule—they would be wrong. Schedules are important for various reasons, and a good financial accounting system will not have just schedules, but controlled schedules.
Image Credit - MorgueFile/Ronnieb.
What Schedules Do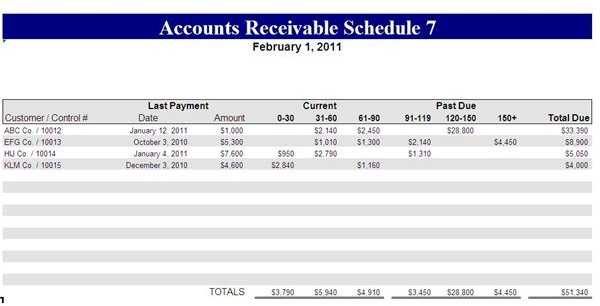 If you take a look at the Accounts Receivable (AR) Aging schedule image at right (click to enlarge), this type of schedule can be printed at any time throughout the month. It shows who owes you, their control (or identifier number), date and amount of last payments, plus what's overdue and how long it's been overdue. Because this schedule is laid out to show who is current and who is late, when it's printed at month or year end, you'll gain a quick snapshot of the total of AR due (on the example it is $51,340).
When month or year end reports are run, not only will the total amount due number roll to the balance sheet, the past due account totals (shown at bottom of image) will also be displayed on your balance sheet. Displaying the past due amounts can be invaluable when considering a company's AR assets on the balance sheet.
If the AR were not clearly defined on the balance sheet, or your balance sheet has no line for past due asset accounts, a lender or investor may not be able to evaluate your company's true worth. In cases such as these, printing out accounting schedules can help determine the real status of your receivables or any accounting schedule that is controlled.
Some accounts such as AR, accounts payables (AP), fixed assets, other income due (such as factory receivables), and capital accounts need to be scheduled to keep track of their activity. This is so important at tax time as your CPA or tax professional can easily print out every schedule to see the entire activity for the year to aid them in tax preparation.
Why Control Them?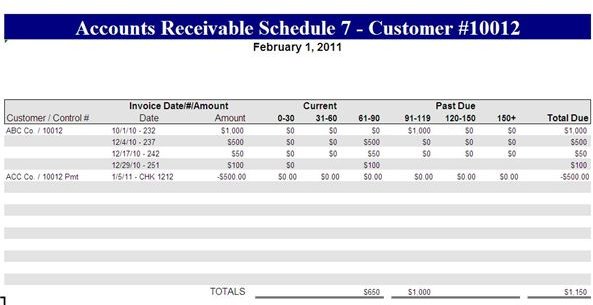 Now, take a look at the screenshot to the left. While you can run an AR Schedule #7, what if you wanted to know what invoices were outstanding by vendor? Schedules that are controlled, such as the image to the left, can be printed via the control number –or in this instance, control #10012 or ABC Co. The image shows invoice numbers, dates of invoice, amount charged, any amounts paid, and what is outstanding and for how long.
Not only can these offer a better view to your accounting department, they can easily be emailed, faxed, or mailed to the customer along with monthly statements. In effect, the control number is the identifier of the customer, vendor, owner or officer, type of inventory, etc.
Controlling Other Accounts in a Schedule Format
Most in-depth software accounting programs allow for the setup of schedules—and almost any account where you want to keep track of activity can be scheduled and controlled with an identifier. Some accounts such as cash on hand or cash in bank don't require scheduling as detailed journal entries are posted on a daily basis and those accounts can be printed for review at month or year end.
Great accounts to schedule are fixed assets, inventory, and capital accounts. The activity in these accounts is necessary for determining depreciation on certain types of fixed assets, aging inventory, and the amount of contributions or withdrawals from owners or officers throughout the accounting period.
Final Thoughts and Help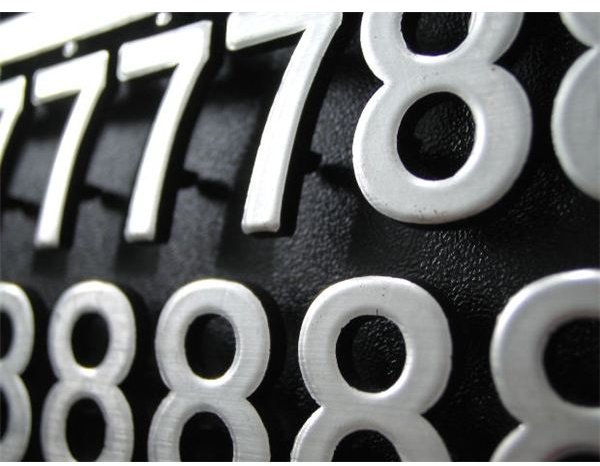 While a period end trial balance is an awesome financial accounting tool to evaluate your company's income and expenses, profits (or losses), the use of accounting schedules can be especially helpful in helping to keep your balance sheet correct, can be searched for inaccurate postings, and help gain insight on certain accounts you want to keep a closer eye on.
To learn more about accounting schedules and why you need them, take a basic online accounting class or see if your local community college offers any courses, learn more about Generally Accepted Accounting Principles (GAAP) right here on Bright Hub, or ask your tax professional for help.
Bright Hub also offers a great article on Glossary of Terms for Accounting from A-Z!
Image Credit - MorgueFile/nacu
Resources
_Accounting Schedule Screenshots - Courtesy of DocStoc – Linda Oliver via JaxWorks.com - https://www.jaxworks.com/_