Typical Restaurant Startup Costs: Planning the Initial Budget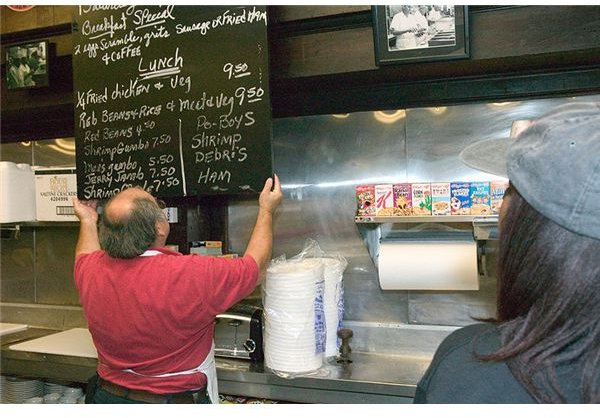 Restaurants vary widely on the type, size and menu. Restaurant costs can also vary widely. A common denominator is the typical restaurant startup costs associated with any operation regardless of type or size. Startup costs for any restaurant fall into one of six categories: professional services, permits and licensure, building costs, materials, labor, insurance and advertising. Every restaurant has these costs, the difference is the amount the restaurant owner will pay out both before and during the first weeks of operation.
Image Credit: FEMA / Wikimedia Commons
Professional Services
A list of typical restaurant startup costs must include both legal and accounting services. While some restaurant owners can get away with not needing accounting services, no business should do without legal help in the beginning. Initial legal fees for startups can reach $600. If the restaurant requires contracts or is part of a franchise agreement, the startup cost for professional services then includes accountants and lawyers and can rise up to $2,000 before opening day. This includes filing papers with the various state authorities in regards to taxes, licensure or business formation. Bank records, tax forms, financial analysis and proforma statements are also part of this category of startup costs.
Permits and Licenses
Startup costs for a restaurant will include permits and licenses inevitably before more other costs are determined. These will be the least amount of the initial startup costs although they are also one of the most important. Permits and license fees vary by locality, fees for these can start under $100 but can rise over $300 just by crossing jurisdictions. Knowing all of the permits and licensing required will help the business avoid delays or sudden closure should proper documentation not be ready.
Building Costs
There are three significant concerns within this category that are typical restaurant startup costs regardless of the type of restaurant. Building permits, rental or mortgage payments and construction or build-out costs. These include any security deposits or down payments made just to gain entry to the building or site. Depending on the size of the establishment, the location and the market of the area initial costs can start at just over $4,000 but can quickly climb to $102,000; this is especially true for rental situations in regards to the dollar amount charged per square foot. Building improvements can also cover a large range depending on the amount of reconstruction. Starting at near $16,000 these costs can double. Smaller scale leasehold improvements, or remodeling of an existing restaurant will keep the cost on the lower end. Building from scratch can raise the cost significantly especially if the restaurant is a franchise where specific building requirements must be followed.
Materials
Materials include equipment, fixtures and initial inventory. These are the typical restaurant startup costs that can be adjusted when needed to keep the restaurant within budget. These are also the costs that can cause undercapitalization quickly. Small operations can get by with minimal material and equipment and can start with $55,000. Larger operations requiring fancy fixtures or special material can spend to $140,000 in cost. Inventory can also vary widely depending on the menu, restaurant size and the expected customer base. Small family diners can find material and inventory at many wholesalers while larger establishments or franchises often are required to purchase through selected vendors.
Initial Labor
The initial labor costs include not only the employees but also the salary of the owner and managers. Small single location restaurants can achieve very small initial costs for labor with just a few employees and the owner; at this level the initial employee cost averages near $7,000 with the owner or manager making just above $4,000 before opening day. Larger, specialized restaurants or franchises can see this initial cost increase to ten times that amount. Much of this cost will be in the opening days of the restaurant and training staff.
Insurance
This is one typical restaurant startup cost which cannot be ignored or reduced, although the inclination is to obtain the cheapest coverage possible. The problem is that while the payments may be lower, the coverage may prove inadequate at a moment when it is needed; this fact alone has closed restaurants after a simple accident where the insurance didn't cover it. The initial payments for insurance can range from $1,800 up to $5,000. Monthly payments will vary depending on the provider and the state regulations concerning the amount of coverage you must have.
Advertising
Although listed last, advertising and initial marketing are a significant amount of the typical restaurant startup costs. High end advertising costs can reach up to $16,000; these include television ads, promotions, giveaways and often ad agencies. Simple advertising can be effective for small operations reaching only $1,800 spent on flyers, newspaper ads, giveaways and effective signage at the location.
Planning is essential to determining how to cover all of the typical restaurant startup costs. Without a properly written business plan there is no way to accurately determine the startup cost for any type of restaurant regardless of the business structure or association with a larger corporation.