How to Start an Office Cleaning Business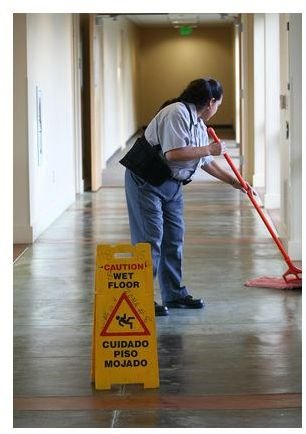 Starting A Cleaning Business
Starting your own office cleaning business or any business takes time. Building customer clientele and meeting specific demands requires you to learn your customer. Cleaning seems like a simple task, but different organizations have different standards when it comes to how they want their building cleaned. Some organizations don't want cleaning personnel in certain areas under any circumstances. Sometimes although you have the key to those areas, you are strictly forbidden from going in those areas to clean. New employees can go into restricted areas without your knowledge, and cause quite a few headaches.
All these are considerations for running your business, now let's review the basics.
Starting any business requires a business license and a tax identification number. You can take care of this by visiting www.irs.gov and your state's website. Both websites will allow you to register your business. Once you have done this, you can put your information out for business. You should identify at least 2 other people who can help you clean if you have too much work. These people should be people you can trust to show up and help out when you need it.
Consider Franchising Your Cleaning Business
Franchises are one possibility when considering how to start an office cleaning business. Franchises like Jani-King have been around a long time and franchises succeed 76% of the time when unknown businesses fail. There can be no mistake in the belief that they create more opportunity for long-term success than an unknown businesses do.
Building Your Cleaning Business
The next steps are actually quite simple. You have to go out and pound on doors to get business. You have to engage people and business owners. You have to be willing to haggle to make your customers happy and get the business. You have to advertise, and be willing to go out and engage people in the community. Most people simply aren't willing to do this part. If you aren't then this business simply isn't for you. This is the core part of any business. You present yourself in many ways. You present yourself in person, on-line, in print and verbally. Each of these tools allows you to get the word out about your business. You need to be willing to do all of these. Please remember that there could be grants or loans for women-owned businesses that can help with initial funding.
The final part of getting your business off the ground is to overdeliver for the clients you get. You need to have those floors so clean that people can eat off of them. You can also add nice touches by adding a rose upon completing a job. This says that the office has been cleaned and that the effort was a pleasure. This is a simple, cheap and rather imaginative way for letting the customer know you value him or her. After a while, word will get around about your business. Overdelivering means that your customer base will evangelize your business for you. This is a big deal during a recession. If you make good on this particular point, you will soon have more customers than you can handle and you will need more staff. Being able to hire during these tough times are a testament to a sound business model.
References
https://www.vanguardcleaning.com/franchise/janitorial-franchise