A Guide for Writing a Dog Daycare Business Plan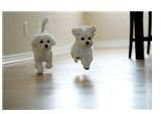 Tips for Writing a Dog Daycare Business Plan
If you want to open a doggie daycare business, you'll need to create a dog daycare business plan. When writing your business plan, there are many things you'll need to consider. Below, we'll offer you some of the essentials to include in your plan.
Food
Every business has overhead, and a dog daycare center is no different. Your overhead is going to consist of everything that you spend on the business and, therefore, what you spend on the dogs. When it comes to caring for canines one of your main concerns is going to be food. No one wants to return and find their canine malnourished or underfed. When writing down the costs of food into your business plan you want to think of what kind of dogs and how many of them you're going to take in at a time. Are you aiming your service at puppies, or are you going to take dogs of all ages. If you're only taking in puppies than you only need to consider puppy food in your business plan, if you're going to take in different aged dogs than you want to make sure that you account for the different kinds of food they will need. This will be the first of the expenses you want to take into account in your business plan.
Leashes and Toys
The next element to consider is leashes and toys. Leashes and toys are going to factor in, because you're going to want to keep the dogs healthy and well exercised. Factor in the prices for the individual leashes and toys for all the dogs you plan on taking in.
Employees
The next expense for your business plan is going to be employees. Are you going to run the business entirely by yourself or are you going to have someone there to help you? Typically a business like this requires at least 2 people. The purpose behind this relates to taking the dogs for a walk. One person can be responsible for dog exercise and play and the other can stay behind to care for the rest of the dogs. This also allows you a second set of hands in case more dogs than you can handle alone end up requiring attention.
Sanitation
Bags are a typically overlooked expense when it comes to owning and operating a dog day care. These bags are required in order to clean up after the dogs. These round up all the basic expenses you will need to consider in your dog daycare business plan.
The Bottom Line
Now we move on to profit. Use the expenses mentioned above to calculate how much each dog is going to cost to care for. The typical business model is "cost of business multiplied by three." Using that model you can calculate how much to charge for each dog to optimize your profit. If you use all of these figures in your business plan you should be able to create an optimal plan for both maximum profit and minimal overhead.
To help you further write your dog daycare business plan, read the article How to Write a Simple Business Plan. This article offers important tips on marketing, expenses, cash flow and other items you'll need to consider.
Image courtesy of: https://mystuffspace.com/graphics/graphic/adorable-puppies