Good Customer Service Examples: Coldwater Creek and Neiman Marcus Make Me Feel Special
Let's Look at Coldwater Creek
Okay, so I like nice clothes and I like to be treated like a queen. Wouldn't that be a great feeling every day? Well, every day that I walk into the Coldwater Creek in Saint Louis, Missouri, I get the feeling that I am important to them.
So, what can this retail store do to make me feel special?
The first thing that they do as a good customer service example is welcome you the second you walk into their store. They don't get on top of you or scare you, they just calmly keep their distance and ask you if there is something special that you are looking for. Then…they let you walk around on your own and do not keep bothering you. One of them will just talk to you every ten to fifteen minutes and ask you if you are doing ok. They still never get too close to you. The woman will always have a soft and calming voice with a soft sell and not too loud or assertive.
The next thing that they do is learn your name. They do not forget your name, either. Every time that I walk into the usual store, they say "Hi Sherry. How are you today?"
As you walk around their store you realize that you feel very comfortable. The colors are all deep oranges, reds, and browns to give you a warm feeling. There is always a large fountain against the wall that has the subdued sound of trickling water. It is a soothing sound, unlike the music that you traditionally hear in a large, department store. The flooring is also a deep, thick plush carpet that makes you feel like you are walking on a cloud. There are plush chairs, tables with magazines, little appetizers in a dish to make you feel like they don't mind is you "sit awhile." The chairs are not placed in corners. They are in the middle of the room so that husbands, kids, or whoever is part of the experience.
When you are ready to purchase your clothes, they have a fine tissue paper that they carefully wrap each item with the Coldwater Creek gold sticker on each item to hold the tissue closed. Once all of your items are purchased, they are placed in a classy tan, fine paper clutch (like a purse) and they tie a gift bow on the top to tie it shut.
When you leave, they use your name again and they thank you and ask you to come back soon. They always send me "personal specials or coupons" on my email address and never let me feel alone. I am part of their family every day of the year. They make me feel special and that is all that matters.
Now Let's Take a Look at Neiman Marcus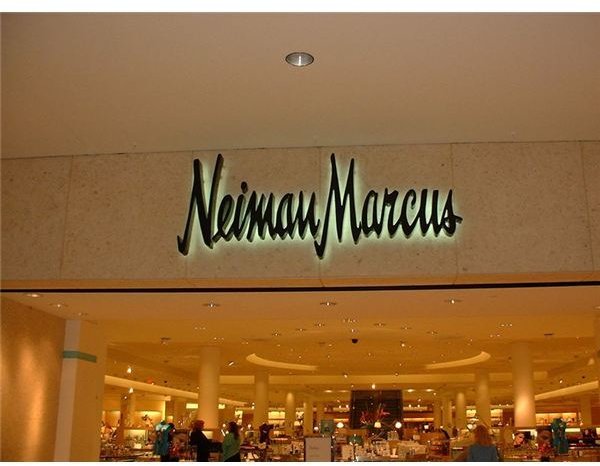 Neiman Marcus is another good customer service example that is larger yet still tries to convey the feeling of "being part of their family." When you walk into their store there is classical music playing on a grand piano in the center of the store. When they have one of their great sales, you get a phone call from your personal shopper that there is a sales promotion. You also have a personal assistant who gets to know what type of clothes you like so that they can call you when something you would be interested in trying on comes in. Your salesman will hand pick your size, too.
Nothing in the world makes you feel better about yourself than having the personal attention that Coldwater Creek and Neiman Marcus delivers.
Image Credits:
Coldwater Creek by cptimes / wikimedia commons
Neiman Marcus released into the public domain / wikimedia commons