Starting a Home Vegetarian Food Business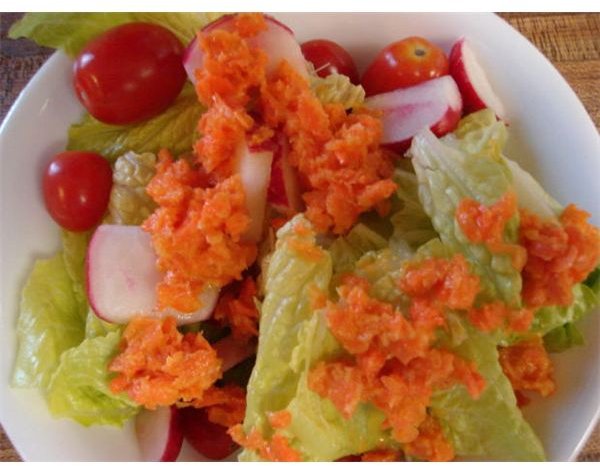 Find Your Market, Choose Your Products
Deciding what you're going to sell is closely tied to the preferences of your target market. If you want to start a vegan bakery in your neighborhood but there's already a beloved bakery down the street that sells vegan cakes and cookies, chances are you're going to see to rethink your product or find a different market. But, if you live in a town chock-a-block with hiking trails, bike lanes and rock climbing
g faces, a home-based vegetarian food business selling vegan energy bars and sports drink could be a winning idea. Vegetarian restaurants often benefit from an international spin, such as serving Thai or Ethiopian dishes. Even a vegetarian pet food business might build a cult following. Conduct thorough research in your area to discover the demographics, favorite activities and biggest vegetarian food cravings of your target market. Then figure out how you can serve that market by producing and selling something you're passionate about.
Image credit: kariatx/morguefile.com
Logistics
Learning how to start a home vegetarian food business requires a firm grasp of legal and business logistics. In most cases, you can't just make and sell things you bake in your own kitchen. Most states have laws governing the commercial food business to prevent food-born illness. You'll either need to find a commercial kitchen to work in or have your own kitchen certified to meet the standards. Commercial kitchens may be available to you in schools, community centers, and local restaurants. Alternatively, talk to your city officials about how to take classes and bring in a private inspector to make sure your kitchen is clean and hazard-free. Either way, supplies and storage may be an issue until you get on your feet. Check this legal checklist for startups to make sure you'll be in the clear.
Marketing
The trick to successfully marketing a home-based vegetarian food business is appealing to vegans, vegetarians and omnivores. Remember, vegetarians are a minority: don't limit your marketing efforts to such a small demographics. Many omnivores just love good food, and will consider a product's vegetarian credentials a plus, not a deterrent.
If you're making something to sell in stores, the packaging is everything. Pay an artsy friend to design you a logo and packaging that lures customers to try something new. Think hard about your branding and what makes you special. Being based in Boulder, Colorado is cool; Enid, Oklahoma isn't. Create buzz around your product: hold a tasting party or ask local food co-ops if you can set up a booth with free samples in their store. Give out business cards, put up flyers, and direct customers to a slick website you've built with information about your product.
Community
Vegetarians and vegans seek each other out. They share recipes, talk about the best vegetarian restaurants, and support each other in a culture obsessed with meat. To succeed in your home vegetarian food business, you have to get the meat-free community on your side. Build relationships with the leaders of the local vegetarian and vegan movement, be they restaurant owners, specialty food shops, vegetarian cooking instructors or athletes. If you're selling online, read and comment on the best vegetarian food blogs–always linking back to your website. If you're good to vegetarians, vegetarians will be good to you, and help you build your business.