How to Start a Greeting Card Business From Home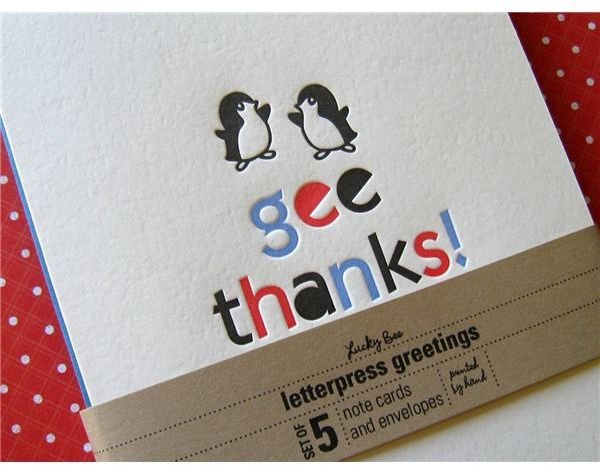 Design
As a small-scale greetings card business, you need to develop a style that stays consistent across your product line. This will help people recognize your work. For example, there might be a certain color or a specific motif that appears in every card. Taliah Lempert, an artist who sells her work online and at an artist's market in Brooklyn, has built an entire business around pictures of bicycles. If you draw really cute dolphins, consider developing a line of dolphin greetings cards for every occasion. Customer are always drawn to cute drawings of animals. Other successful image options are flowers, party items like cakes, and landscapes. Or, develop a more unique line of greetings cards with interesting textures and themes like industrial or exotic.
Image credit: luckybeepress/etsy.com
Supplies
You'll need to think about what type of art supplies and card you want to use to make your cards. The type of design you select will help determine the look and feel of your card. If you want a slick look, you'll need to invest in a graphic design software program like Adobe Photoshop. An old-timey design will be set off by a card made of handmade paper. You can also combine computer-generated and hand-drawn text and images. To mass-produce your cards, try creating a couple cards with acrylic paint or another technique, then scanning them into your computer and printing them on cardstock. It might be necessary to invest in a high-quality scanner and printer, but while you're just getting started, check out the rates at your local Kinko's or print shop.
Marketing
A key part of how to start a greeting card home business is developing a marketing strategy. People love local. Capitalize on your status as an independent artist by selling your cards at independent stores, art galleries, and farmer's markets. Talk with the owners of local coffee shops and bookstores to see if they will stock your greetings cards for a small commission. Another option is selling your cards online. Handmade craft marketplaces like etsy.com draw a lot of traffic, increasing the chances that your cards will be seen. A word of warning: the online market for greetings cards (and any product) is broad and deep. You'll need to aggressively promote your merchandise to get it seen. Re-post items every day so they stay near the top of the list. Network with fellow sellers, comment on message boards, and always include a link back to your work.
Selling Greetings Cards Online
The Internet has opened up a new realm of possibilities for the greetings card designer. You'll want to create an attractive, easy-to-navigate website to showcase your wares. Customers can buy cards that are sent to them to write, or they can enter text for you to print and send them to the recipient yourself. You can set up a payment system through Paypal instead of creating your own; it's better to use a system people already trust. Another option is to offer e-cards on your website, which people can customize with songs and different fonts. Consider offering some free e-cards and some for a small fee, or use your e-card business to draw in customers for your bigger print card lineup. Using the Internet's limitless possibilities to market and sell your wares can prove an essential factor in how to start a greeting card business from home.