Looking for an Online Product Pricing Calculator? Let Bright Hub Help!
The Art of Pricing
It can be difficult to run a business and stay competitive. One way to do so is through the pricing of your products. However, product pricing requires a solid strategy. A price that is too high may scare off potential customers. On the other hand, charging a premium is often expected when the product is unique, handcrafted or offers an other advantage that you have over your competition. Charging lower prices may deliver the wrong message about the quality you offer, while offering 'value' pricing may entice shoppers to choose you over a highly-saturated marketplace.
The solution is using an online product pricing calculator. Here are several suggestions which will give you a step up above your competitors.
Templates from Microsoft Office
Microsoft Office Online offers a few product pricing calculators that can be used in Excel.
This Product Pricing Calculator Template is useful for companies who need to price bulk orders, including markups, discounts and the creation of invoices. Excel 2003 or later is required.
Freeware Software from TAG Solutions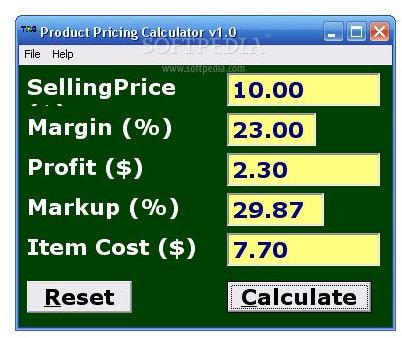 Product Pricing Calculator Standard from TAG Solutions shows selling price, margin (%), profit ($), markup (%) and the final item cost ($).
The program is freeware for WIndows Operating Systems.
iPhone Application
This Product Pricing Calcutor is compatible with iPhone, iPod touch, and iPad (requires iPhone OS 3.1.3 or later). Features include cost plus pricing (allowing the user to markup the cost of the product by a margin desired); markdowns (allowing the user to apply a discount to their products); a target cost app (when a product must be sold at a specific market price, you get the target cost you need to meet your required margins).
Free Online Pricing Calculator
This online Retail Markup Markdown Calculator allows you to Calculate Retail Sales Price and Profit or Loss.
About.com Guide Sheri Waters also offers tips on how to tackle the task of pricing one's products, including markup pricing, psychological pricing and other strategies you can utilize in your company.
Your Strategy
Pricing your products requires more than copying what your competitors are doing. Some other factors to consider are:
Cost: How much does it cost you to produce your product today? What will it cost you in the future? Use these rates to determine your pricing strategy.
Consumers: Your customer's spending habits shift as the market changes. When times are good they may be willing to spend more - but what goes up must come down. Don't forget to account for slower periods.
Competitors: While you should keep an eye on your competition, don't let their moves dictate your own. Your target market may be similar, but what works for one company may not necessarily work for another.
Final Thoughts
There are many factors that come into play when determining the price of your products. By using an online product price calculator, you can appease your customers, reflect your business model and achieve the financial goals of your company.