Start-Up Cost of a Catering Business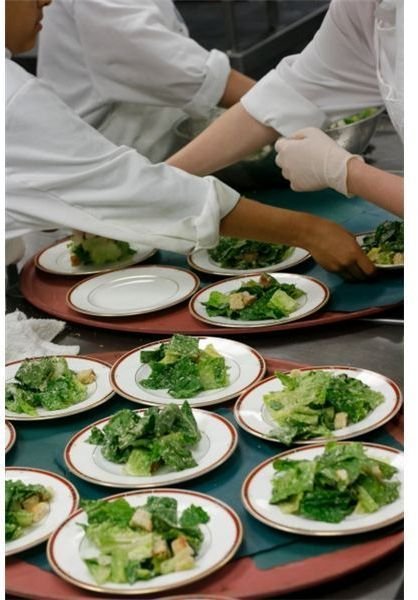 Overview of Catering as a Business
Starting a catering business can be exciting and fulfilling but it also takes a lot of planning. A caterer can specialize along two major lines; the type of food offered or the type of client served. If you decide to cater to those who have a special occasion to celebrate for instance, you may target weddings, anniversary parties and birthdays or you may prefer to work for corporate events. Caterers who choose to serve a specific type of food may work for any occasion or any client but instead differentiate on the basis of who is interested in what they have to offer, whether it is Mediterranean or Mexican meals.
One of the great things about starting a catering business is that you don't need to start off on a large scale. Catering can actually be done on a part-time basis or out of a home kitchen until circumstances allow for an upgrade or expansion of the services provided.
What are the Costs Involved in Starting a Catering Business
Since the scope of the business determines the startup cost and this has already been defined as quite flexible, the final startup cost can vary wildly. Starting a catering business from home might require the investment of a few thousand dollars whereas starting on a larger scale could run into the tens of thousands.
Since it is difficult to arrive at a firm figure for starting a catering business, the following can be used as a guide to suggest the categories of spending that may be considered.
Licenses and Permits. Starting a business in the food and beverage industry means that you must comply with the laws and regulations governing that sector. To get your Food and Beverage License you should contact the office in your state and find out what you need to do to get your papers in order. Registering as a small business under your state laws will complete the legal aspect of starting your catering business and then you can operate without fear that your business can be closed down for non-compliance.

Cooking Equipment and Supplies. You may want to start your catering business using your personal kitchen and this is completely plausible if you do not accept excessively large jobs. If you are willing to invest a larger sum to either upgrade your kitchen at home with commercial appliances or to rent a commercial kitchen space elsewhere, this cost must be factored into your startup cost equation.

Delivery Vehicle. All caterers are expected to take on the responsibility of getting the food to the venue and most also offer service at the venue. This means you must have a proper delivery vehicle to transport the food from your kitchen to the final location.

Rental or Purchase Cost of Transport and Serving Trays. The food must be transported in professional warmer trays and serving dishes so these must also be acquired.

Staff. You may be able to handle the actual food preparation, but you will certainly need to enlist some help with the delivery and service aspects. This can be contracted out to a partner company or you may hire support staff on an 'as-needed' basis. The cost of hiring this help must be considered as well.

Marketing the Business. Every small business needs some level of advertising to survive. It may be possible to get a large percentage of work on a referral basis but this should not be your only avenue for soliciting new jobs. A marketing budget will ensure that you can get your name in front of potential clients.
To succeed as a caterer you need to be well-organized and ready to work extremely hard, but the rewards of running a business in a field that you love are extremely great.