Steps to Starting an Errand Running Business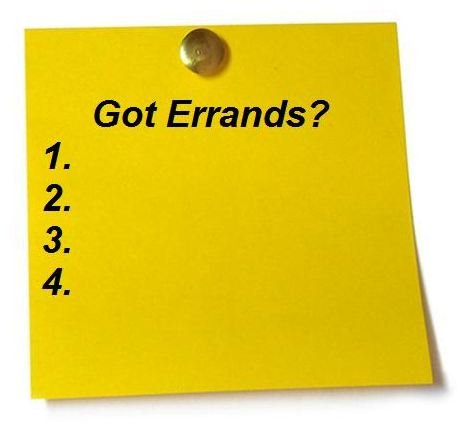 Starting an Errand Running Business
Starting an errand running business is one of the easiest businesses to start. Why? Simply put, this business requires almost no start-up capital or financing. When you start your errand running business, you will be helping individuals complete their daily tasks. For example, your elderly neighbor may need you to go grocery shopping and when you complete the task your neighbor will pay you a fee. The amount of money that you can make will depend on your skills and abilities to generate new business.
Carefully set-up office space in your home to start your errand running business because this will help you stay organized. Consider using an area in your home that can be easily converted as an office. Use a home computer for basic recordkeeping to keep costs to a minimum. Keep in mind that you will need a cell phone to receive and make phone calls. Make sure you have a dependable car to help you run your errands.
Take care of all the necessary paperwork to set up your business. Visit your local city or county office and apply for a permit or a license to operate an errand running business. Apply for your state's Department of Revenue tax ID. Call (800) 429-4933 and apply for your federal tax ID number. You'll need these tax ID numbers to pay your taxes.
Decide what kind of errands you are going to run. Start-out by doing very easy errands. Run errands for individuals that need grocery, auto parts, lunch, and medical supplies. There are many other types of errands you can run. Set-up a 30 mile radius until you can build up your clientele.
Use a simple business plan to help you start an errand running business. Write a marketing plan that will show exactly how you plan to get individuals to use your errand service. Organize the management section to explain how you will operate your errand service each day. Develop the financial plan and show how you are going to manage the business income and expenses.
Go to your local print shop and order advertising supplies for your business. Tell the shop owner that you need to order business cards and flyers for an errand service. Explain to the shop owner the exact information that you want on your business cards and flyers (i.e. business name, cell number, logo, etc.). Pass out the flyers in the area where you plan to market your services. Hand your business cards out to individuals you meet and sell your services to them. Think about visiting nursing homes and nursing care facilities as a way to generate business by helping the elderly. You can run a successful errand business.
Image Credit: Sticky Note by Peteris B at https://www.flickr.com/photos/flatcat/3555774083/