3 New Business Ideas for Restaurants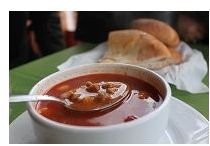 When considering new business ideas for restaurants, you shouldn't look beyond the needs of your community. What may appear to be a hot trend in one location may fall flat where you plan to open your restaurant, and leave you broke. That's not to say that you can't experiment with new food choices that your customers may enjoy. See which of the following ideas fit the demographics, eating habits and food preferences of the city or town you plan to serve.
Buy Local Only Restaurant
It's a tough way to make a profit admittedly, but opening a restaurant that uses most or all of its ingredients from local farmers can be done. Restaurants have tried to incorporate foods and ingredients produced locally, but few have ever tried building their business using local foods primarily. The success of the restaurant won't rely so much on the food you offer, although it needs to be of good quality or no one will patronize your business. People who believe in supporting local businesses and building up their community will flock to your restaurant, as their way to show support for you and the local businesses that supply you with ingredients. It's one of the new business ideas for restaurants that are catching on fast, as people are worried about losing their community due to job losses and city and state bankruptcies. Many are ready to start rebuilding their communities all over again, and this type of restaurant business model, which will aid the community's overall economy, can help.
Gluten Free Casein Free Diet Restaurant
You'll need to open a gluten free and casein free restaurant in an area with a large population for it to be profitable. It's one the most needed new business ideas for restaurants, but it's a mystery to many business owners who have no idea what it is. Gluten is found in wheat, barley, rye and a few other grains. Casein is a protein found in dairy products. More and more families are eliminating foods from their diets containing gluten and casein, due to an increase in health problems with the gut and immune system. These same families have to stop eating out, because most restaurants make foods containing gluten and casein. Most of them would gladly flock to your restaurant, just to get a break every once in a while from preparing meals from scratch. Grocery stores offer a limited amount of gluten free casein free foods, but people miss the dining out experience. You cannot make foods containing gluten or casein in the restaurant to try to serve others, because cross contamination in food preparation can cause serious food allergies.
Whole/Organic Foods Restaurant
Many people want local food, but even more people want whole foods. They're tired of the chemicals, additives and toxins in their food and water, and would prefer to eat natural and organic foods as an alternative. They also don't care for genetically modified foods, which many restaurants use because they're cheaper than organic foods. Like the gluten free casein free diet crowd, their pursuit of eating "real foods" severely limits their ability to eat out. Opening a real foods restaurant is one of the new business ideas for restaurants that can meet the needs of a growing segment of the population. It's not as restrictive as an organic foods restaurant, because not all of your ingredients have to be "certified organic." For example, you can buy tomatoes grown by a nearby Amish farmer that you know and trust. He may not have a certification, which can be costly and involve a tremendous amount of paperwork, but he may use organic growing practices. Your customers will be more concerned with eating foods free of chemicals and ones that are non-GMO, rather than ones with an official organic certification. If there's already a quality organic restaurant present, then consider a new location or another restaurant idea. However, if the opposite is true, then you may have a profitable opportunity to pursue.
Before investing in any of these new business ideas for restaurants, do your research. Don't just look at statistics on the Internet. Survey community residents and business leaders to find out what they need. Choose an idea that meets those needs.
Image Credit: Gulizars