How to Run Your Own Homemade Soup Business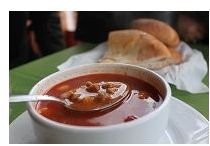 Turn your passion for making wholesome soups into a home business by learning how to run your own homemade soup business. There's a growing trend to buy local foods, and to ditch commercial foods that contain additives and harmful ingredients. You can take advantage of either of these food movements or both, by offering healthy soups that you make yourself.
Supplies for Your Homemade Soup Business
Before you learn how to run your own homemade soup business, you'll need to make sure you have the supplies you need. Include the costs of these supplies in your business plan:
Crock pots and other cookware
Cooking utensils
Soup ingredients
Soup containers
Markers
Labels
Business cards
Container (to transport soups to refrigerator at home, or to deliver to businesses and individuals)
Cups and bowls (to package soups)
You'll also need access to a commercial kitchen and enough space in a refrigerator to store the soups you make.
Commercial Kitchen
All states have minimum safety requirements for selling food to the public, and this often includes using a commercial kitchen to make your soups. Find a commercial kitchen in your area where you'll make your homemade soups. Local groups, such as a Boys and Girls Club, may have a kitchen at their facility that they would be willing to lease to you on a regular basis. Call the health department for more leads if you can't find one. That's a better option than having health inspectors visit your home to inspect your kitchen. Schedule time once or twice a week to make your soup, so that you're not out of the house every day to prepare your products. It may not be possible for you to use a commercial kitchen all the time anyway, because the owner may lease it to others, or need it for their own use.
Soup Delivery
You'll need reliable transportation to deliver your soups. A typical day may include delivering soups to:
Coffee and deli shops
Restaurants
Busy moms' homes
Produce stands
Food vans that sell gyros, burritos and other foods
That's no excuse to buy an expensive car using debt. It does mean that you'll need to maintain the car you have, and keep it in good shape. Get regular tune ups and buy business auto insurance if your personal auto insurance won't cover business related claims.
After you learn the basics of how to run your own homemade soup business, you're going to want to think of ways to utilize the talents of family members in your home based business, or how to take on independent contractors. If you're the sole laborer in your business, everything will come to a standstill if you become sick or injured.
In Addition or as an Alternative to Making Soup
Think outside of the box when you're figuring out how to run your own homemade soup business. Instead of cooking soups and selling them in cups or bowls, make soup mixes. It may eliminate the need to use a commercial kitchen in order to pass a health inspection. Check with your health department about food safety requirements for soup mixes, because each state has its own rules. The great thing about making mixes is that you can store them longer and in larger quantities at your home than homemade soups. You also have the potential to make more money, because you can sell them online or through a mail order business. You can't ship your homemade soups unless you can them, which will invite even more health inspections and there are more regulations to follow.