Home Based Business Ideas for Retired People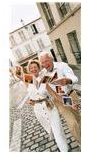 Starting a Home Based Business After Retirement
Surprisingly, many advantages exist for entrepreneurs looking to start their own home based business after retirement age. One such advantage is time. Once a person retires, he/she has ample time to work on a new home based business. Depending on the amount and type of work, the retired can still enjoy social security benefits while earning additional income from home based businesses.
One advantage of working after 65 is deduction of business expenses from income taxation. It is possible to deduct legitimate expenses like mortgages, office supplies, utilities, postage, and other expenses from being taxed as long as it sticks to the guidelines outlined by the IRS. There are many home based business ideas for retired people,especially those who want and need to stay busy.
Best Business Ideas for Retired People
Fewer and fewer retired people find it possible to live off of their savings; savings and social security benefits are just not enough. Thus, many retired people look for income opportunities by starting a home based business. Working from home offers independence and freedom to work on something worthwhile. Discussed below are three of the most popular home based businesses for retired people.
Consulting: Many companies feel the loss when senior staff retires. Because of their experience and skills, retiree entry into the business world as consultants benefits many companies. Senior citizens can start a consulting business in their field and share their lifelong achievements by training inexperienced or new staff.
Sales: If you have selling experience, many home based sales jobs are available online. This is popularly known as affiliate marketing. Most of these jobs are commission based in which the sales person is paid with every sales transaction initiated.
Internet Jobs: Apart from Internet selling, there are other online jobs like data entry, writing, participating in focus groups, and others. However, you have to be careful not to get caught up in scams that promise you returns for an initial investment. No legitimate company requires you to pay money upfront to "buy in" to some opportunity.
Before initiating a home based business, it is best to think over why you would like to do so. Is it because you want to find something that can help pass time or is it because you want to earn some extra money? You need to decide how many hours a day you are willing to invest in a home based business. If you can't devote enough time to your business, you may find it difficult to compete with other similar businesses. Seek out help from local economic development centers or senior centers to explore the best home based business for you and your needs. In addition, talk over your plans with your partner. Perhaps a home based business is something you can work at together in retirement. This reduces the amount of time just one of you has to dedicate to your home based business.