Winter Business Ideas: Seasonal Business Opportunities That Shovel in the Cash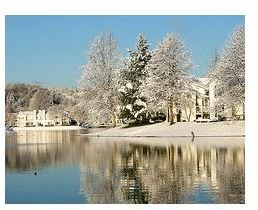 Why a Seasonal Business?
Different seasons have different needs - and different needs generally means that you will have different business opportunities to fulfill seasonal needs. Winter, especially, has needs for businesses to take care of snow, roads, and other weather-related phenomena. Savvy entrepreneurs will take advantage of these seasonal needs and offer the appropriate business services. Below, you will find a list of great winter business ideas.
Snow Shoveling/Snow Plowing
Elderly people, the disabled, and many other groups are unable to shovel their own snow safely. If you live in a place where it snows, this can be a great business to run (especially if there is a lot of snow). Snow plowing can be a great business as well. While many cities have snow plows, many individual residents with long driveways and privately owned businesses will require skilled snow plowing.
Cold Weather Apparel and Accessories
This is a winter business that can provide work year-round. While demand for snow and cold weather gear such as snow coats, sweaters, hats, snow pants, gloves, scarves, etc. goes up in winter, a few well-organized individuals will procure needed items before the weather gets cold. Starting a cold-weather apparel store can be a great option for those looking for a seasonal business.
Winter Weather Baskets
Another business idea for the winter, outside of the standard gift basket business that thrives on winter holidays, is a winter weather basket making business. The idea would be to provide all the items a family would need should storms hit. There could be different baskets - one for the home and one for the car. The kits should include items like:
A battery powered radio and batteries
A listing of emergency services, stations, and notifications
Bottled water
No-cook canned food
A non-electric can opener
First-aid kit
Battery powered lamps (candles can elevate the risk of a fire)
Windshield scraper
Blankets
Warm Hats
Tool Kit
You could extend the list to provide comprehensive supplies to those who are new to cold weather areas.
Holiday Decorating Service
Many people love a home that has been decorated for the holidays, but do not have the time to decorate on their own. Related to this business idea are gift wrapping services, personal shopping services, and catering services specializing in holiday food. By looking for holiday related tasks that busy people may not have time to do themselves, you can find a niche for your business marketing.
Winter Camp for Kids
Let's face it, when it's cold outside, we don't want to go outdoors, much less send our kids outdoors. However, during the winter break (and even after school when it's snowy or wet), kids get bored. Organize a winter camp for kids (check into licensing information) based around a theme or two in order to provide parents with some relief for cabin fever children.
Winterizing People's Homes
Pipes must be wrapped, rock salt must be purchased, some people put lights around the outside of their homes. You can provide a business service to others that will help them get ready for the harsh winter months.
Other Winter Business Ideas
There are many more winter business ideas - winter vacation travel agencies, ski instruction, and winter sports training, can all be lucrative businesses so long as you take the time to carefully plan and execute your business idea. Whatever choice you make for your winter business, be sure that you understand whether licensing requirements are necessary and make sure to write a business plan. Finally, don't forget to market your business both on the Internet and out in the world.