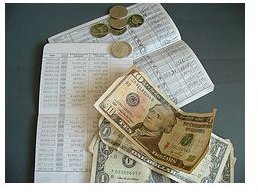 You Must Have Cash
The idea behind managing cash flow is to have enough cash from revenues to pay expenses. For centuries cash made by sales has been used to pay vendors, employees, taxes, and operating expenses with the hope that a profit is present. If your small business doesn't have enough cash to pay its expenses, you're not managing your cash flow properly.
One of the most recommended of all cash flow business ideas is to plan ahead. This is easily done through forecasting income and expenses, but you have to be realistic. To help you get started, use the cash flow forecasting template found in our Media Gallery. You can easily customize it to meet your business needs.
What Will Cash Flow Forecasting Show?
If you forecast income and expenses for each upcoming quarter for at least a year, it will show you where you expect your sales or income to be, what your expenses are, and if you have any cash in the bank at the end of each month, quarter, and the entire year.
Use your cash flow forecast and compare it to actual revenue, expenses and cash in bank. If you're seeing negative numbers on your actual financial statements, you most likely accounted for too-high revenues or didn't allow for unexpected expenses.
Improving Cash Flow
You can improve your cash flow if you stay on top of your receivables. Many businesses allow other businesses to set up charge accounts and because they want to keep a "friendly" relationship, some of these account charges can go 30, 60, or even 90 days past due. If someone owes you cash, that means you don't have it, even if your accountant says it's an asset. Make sure you send out monthly statements to your charge account customers and don't be afraid to call them and ask for a payment. You can also ask all of your customers, charge account or otherwise, to make a deposit on items ordered.
Another effective cash flow business idea is to move your inventory as fast as it comes in. Uncontrollable inventory can make or break a business, especially if you have too much of it. Don't let your suppliers talk you into items you aren't sure you can sell. Do take advantage of bulk prices from your vendors on fast-moving inventory. The faster you sell it, the more cash you have to help your business flow properly. Ask your suppliers what items are moving fast for your competitors. If you own a franchise, take advantage of the monthly reports they provide you on fast-moving inventory across your territory.
When Times Are Slow
Every business experiences slow times, it's part of the exciting and challenging world of the entrepreneur. Expect slow times and plan in advance because you will experience them. Don't wait until you're out of cash to try and borrow some because you probably won't find a lender willing to fund a cash-poor business. When times are good, ask your bank for a line of credit and only use it for slow times. Make every effort to pay back the principal, not just interest, to keep your line of credit at its fullest.
Experts are full of business cash flow ideas and not every market is comparable. For your business to be cash safe, you need to forecast, plan, analyze, and make changes. If you do forecast and your business is clearly suffering from lack of cash, consider contacting a mentor at SCORE who can help you determine what's going wrong. SCORE is a division of the Small Business Administration and has offices in every state. Find out how SCORE can help your business right here on Bright Hub.
If you own a franchise, ask your district manager team to assist you, that's what they get paid to do. Often, they have the answers you seek. Be smart about your cash flow and understand how to manage it and even slim times will seem achievable.